5 ways to bring a taste of Mackinac home for the holidays
Share
Array
(
    [networks] => Array
        (
            [0] => facebook
            [1] => pinterest
            [2] => linkedin
        )

    [has] => Array
        (
            [facebook] => 1
            [twitter] => 
            [instagram] => 
            [pinterest] => 1
            [houzz] => 
            [linkedin] => 1
        )

)

Fudge was being made on Mackinac Island long before Harry Ryba and Victor Callewaert opened their first shop there in 1960. In fact, it was the growing popularity of fudge at Michigan's favorite summer destination that attracted the Detroit confectioners to the island.
Since Ryba and Callewaert arrived on Mackinac Island, the place has never been the same.
Ryba's Fudge Shops is where fudge making became a public spectacle that drew people to the front windows of Mackinac Island fudge shops. It's where tasty new flavors of fudge were invented, where fanning the sweet scent of fresh fudge out into the street was pioneered, and where Mackinac Island visitors are still lovingly referred to as "fudgies," a phrase Harry Ryba coined himself.
No wonder Ryba became known as "Mackinac's Fudge King."
"Although Mackinac Island had a well-established reputation for producing quality fudge, it was Ryba who spurred the industry to new heights and created an indelible link between 'Mackinac' and 'Fudge,'" writes Phil Porter, chief curator of Mackinac State Historic Parks, in his book on "Fudge: Mackinac's Sweet Souvenir."
Next summer will mark the 75th anniversary of Ryba's Fudge, and 60 years since the family-owned business brought its Michigan-made treats to Mackinac Island.
Can't wait until 2020 to get a taste? Go ahead and place an order for Ryba's Fudge to get delivered from Mackinac Island to your home in time for the holidays.
Here are five ways to bring a taste of Mackinac home for the holidays: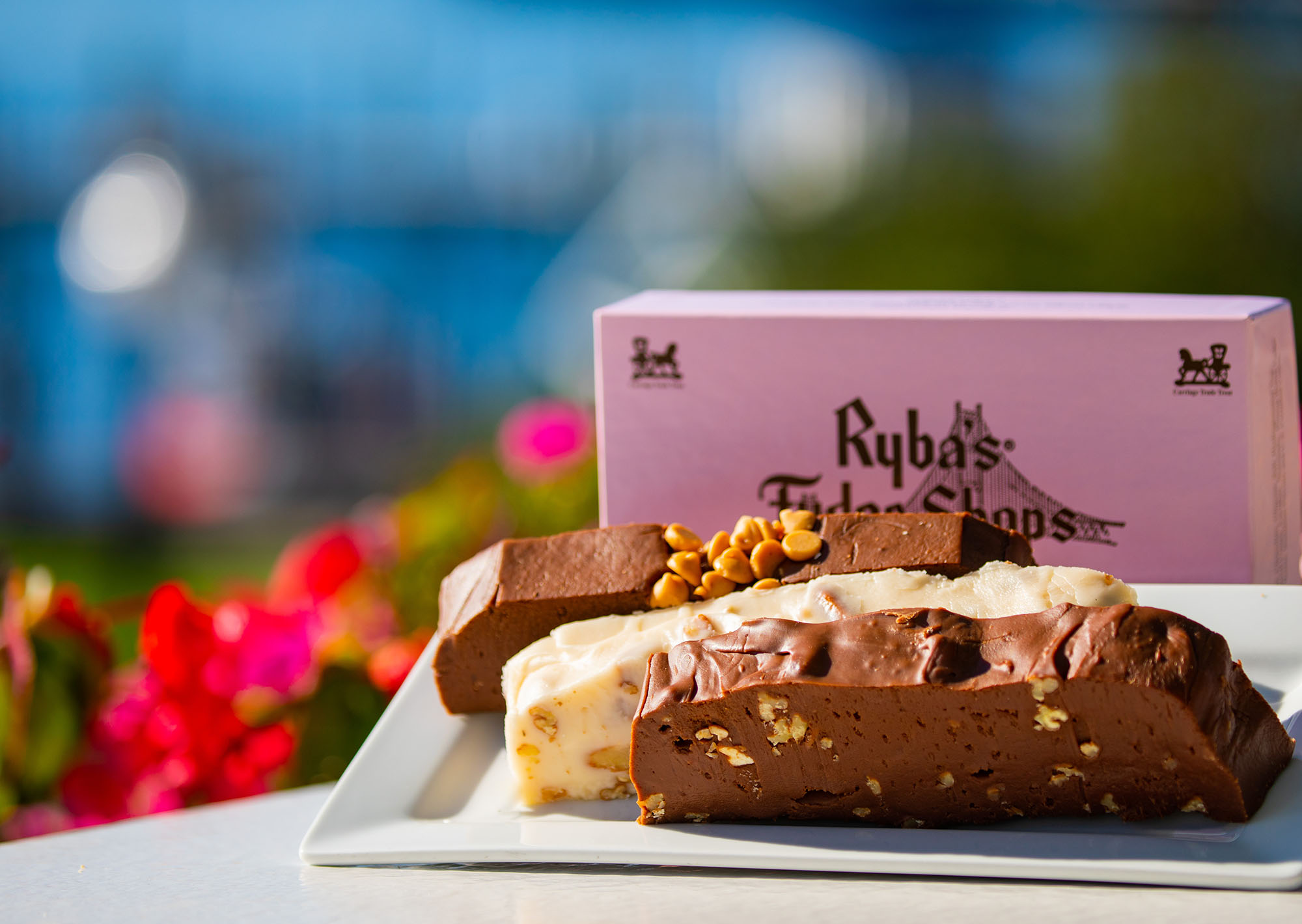 $29.95
Bring a taste of Mackinac Island home or send it to that friend or family member who's never been. Each three-slice box includes 1.5 total pounds of fresh, smooth Michigan-made fudge. Choose your three favorite half-pound slices from our seasonal selections and taste the Ryba tradition.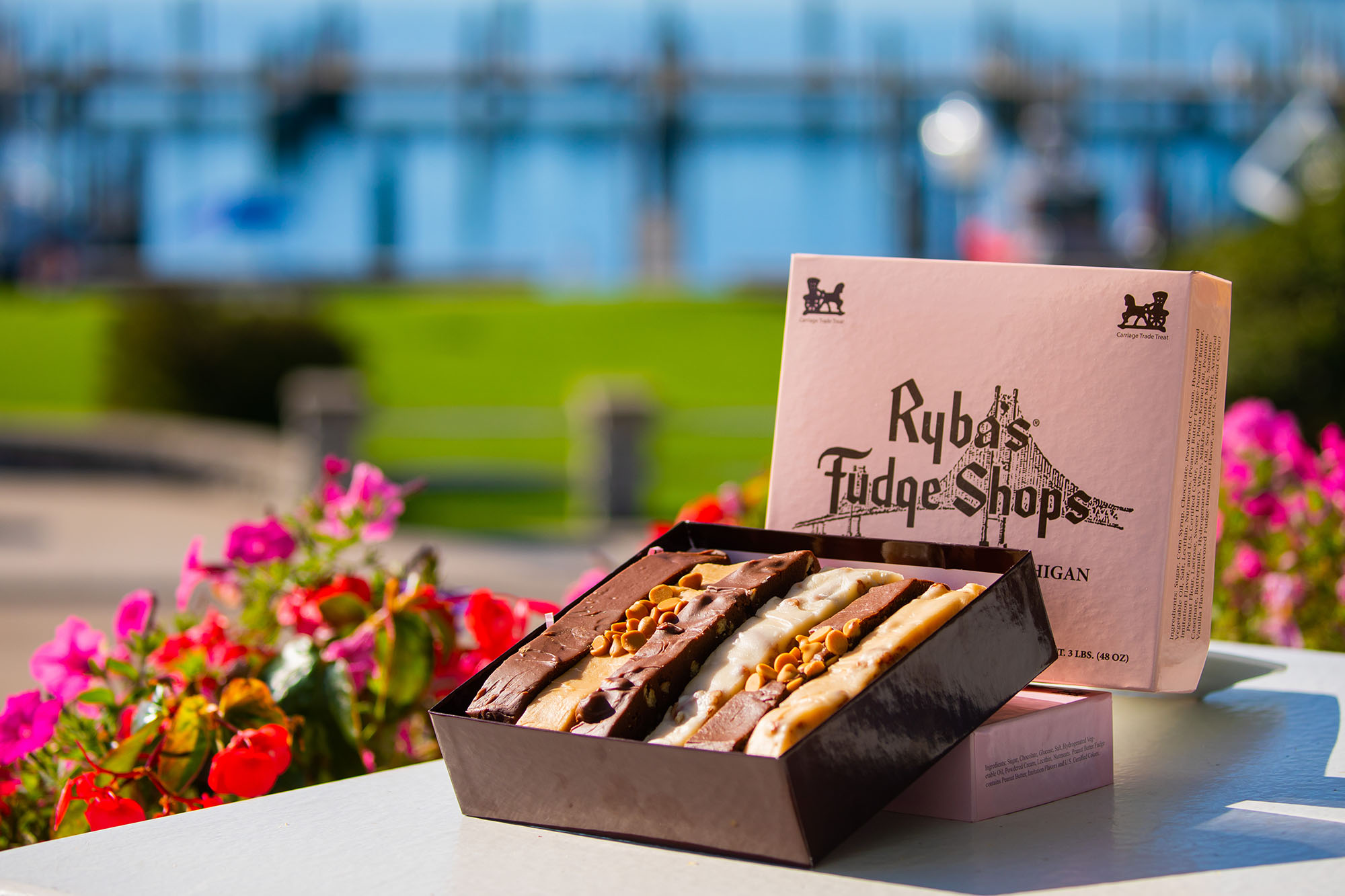 $59.95
When variety is calling your name, this three-pound box of six fresh half-pound slices has you covered. It's the perfect gift for the sweet tooth in your life, or bring it to your next family gathering and win all the 'dish to pass' points. Choose six flavors from our rotating list of seasonal favorites and get ready to experience Michigan-made fudge at its best.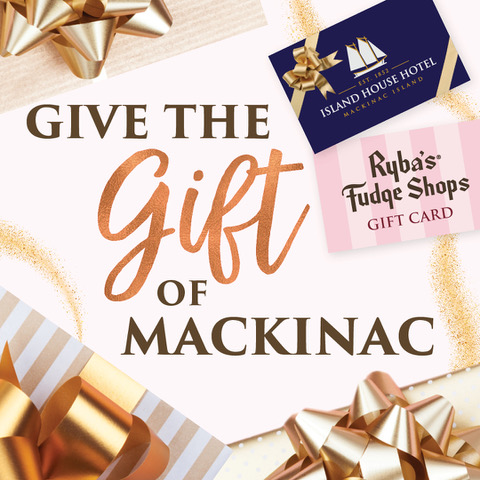 Customize Your Amount
Memories made with a Pure Michigan getaway last forever. Mackinac Island's most versatile gift card can be used for shopping, dining, bicycle rentals, lodging, and even our world-famous fudge!
Gift cards are available in any denomination and do not expire.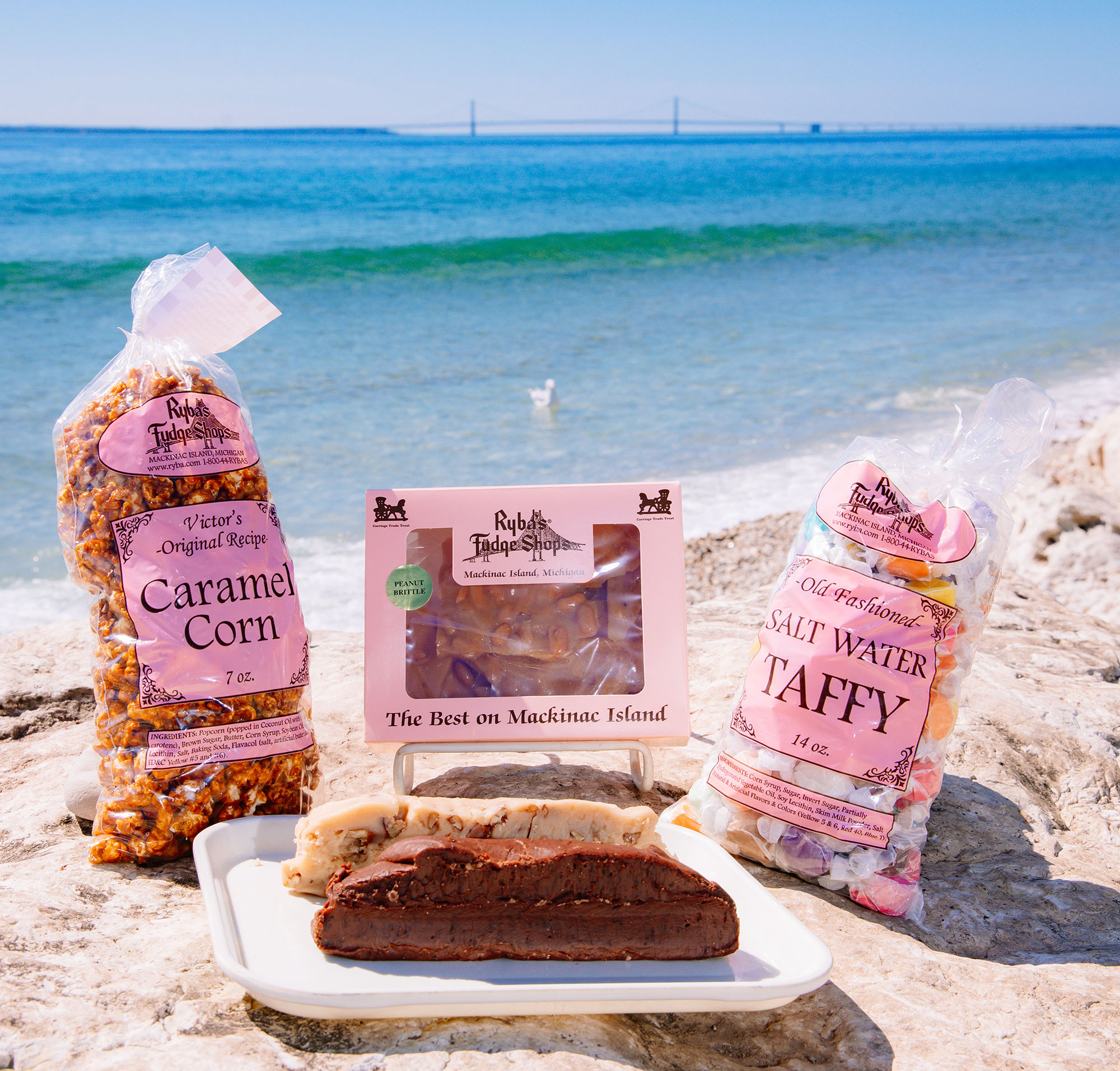 $49.95
We're known for our Michigan-favorite fudge. Now's your chance to try our other famous sweet treats, too. This sampler is the perfect option for you to have a taste of what makes Ryba's Ryba's. Our time-tested recipes and four generations of family fudge & candy-making have made us a Mackinac Island institution. So order one for yourself and then send another to the sweet tooth on your list and see what all the fuss is about.
$99.95
Whether the taste of Mackinac Island stirs fond memories of days gone by or opens the eyes of a first-timer to the deliciousness of these classic recipes, there's something for everyone in this deliciously Michigan-made gift basket. Full of traditional sweets and treats that have been handcrafted using our family's long-standing recipes, it's the perfect gift for any occasion (or have one delivered to your own doorstep for a sweet surprise your family won't soon forget).
If you can't decide what to try, Ryba's offers great deals on Holiday Gift Packages that include a little bit of everything. Check out all the options and order now for delivery in time for the holidays!
You can also give a gift card that can be used for Ryba's Fudge or for shopping, dining, lodging, and merchandise at the family's other Mackinac Island businesses including the 1852 Grill Room, Ice House BBQ & Bar, Island House Bike Shop, Island House Hotel, Mary's Bistro Draught House, Pancake House & Grille, Pine Cottage Bed & Breakfast, Seabiscuit Cafe and Starbucks.
History of Ryba's Fudge Shop
It was back in the 1940s that Harry Ryba, who owned a Karmel Korn Shop in Detroit, started making fudge. A few years later he met a teenager who sold newspapers outside his store and hired him to whip up the batches of fudge. Victor Callewaert was planning to become a plumber, like his father, but he married Ryba's daughter and ended up becoming partners in the fudge business.
Ryba and Callewaert sold fudge at their shop in Detroit and at events and festivals including the Detroit Auto Show. Then, in 1960, they opened their first store on Mackinac Island. Soon, Ryba's Fudge became the island's premier fudge.
While other fudge shops used white boxes, Ryba's started selling fudge in pink boxes and bags that could be seen all over the island. Ryba's also started giving customers "fudgie" pins with each purchase. Main Street passersby flocked to the front window of Ryba's shop to watch the dramatic process of fudge making live.
"It's liquid running all over the slab and it gets thicker and thicker, and all of a sudden you've got a loaf," said Victor Callewaert, now 83, who still makes at least one batch of fudge each year. "It gets people's attention. It stops them, especially when you've got that smell.
"Everybody makes it on the slab, but if you like it creamy ours is the best. All you have to do is taste it. There's no match for it."