Where to Stay on Mackinac Island
Share
Array
(
    [networks] => Array
        (
            [0] => facebook
            [1] => pinterest
            [2] => linkedin
        )

    [has] => Array
        (
            [facebook] => 1
            [twitter] => 
            [instagram] => 
            [pinterest] => 1
            [houzz] => 
            [linkedin] => 1
        )

)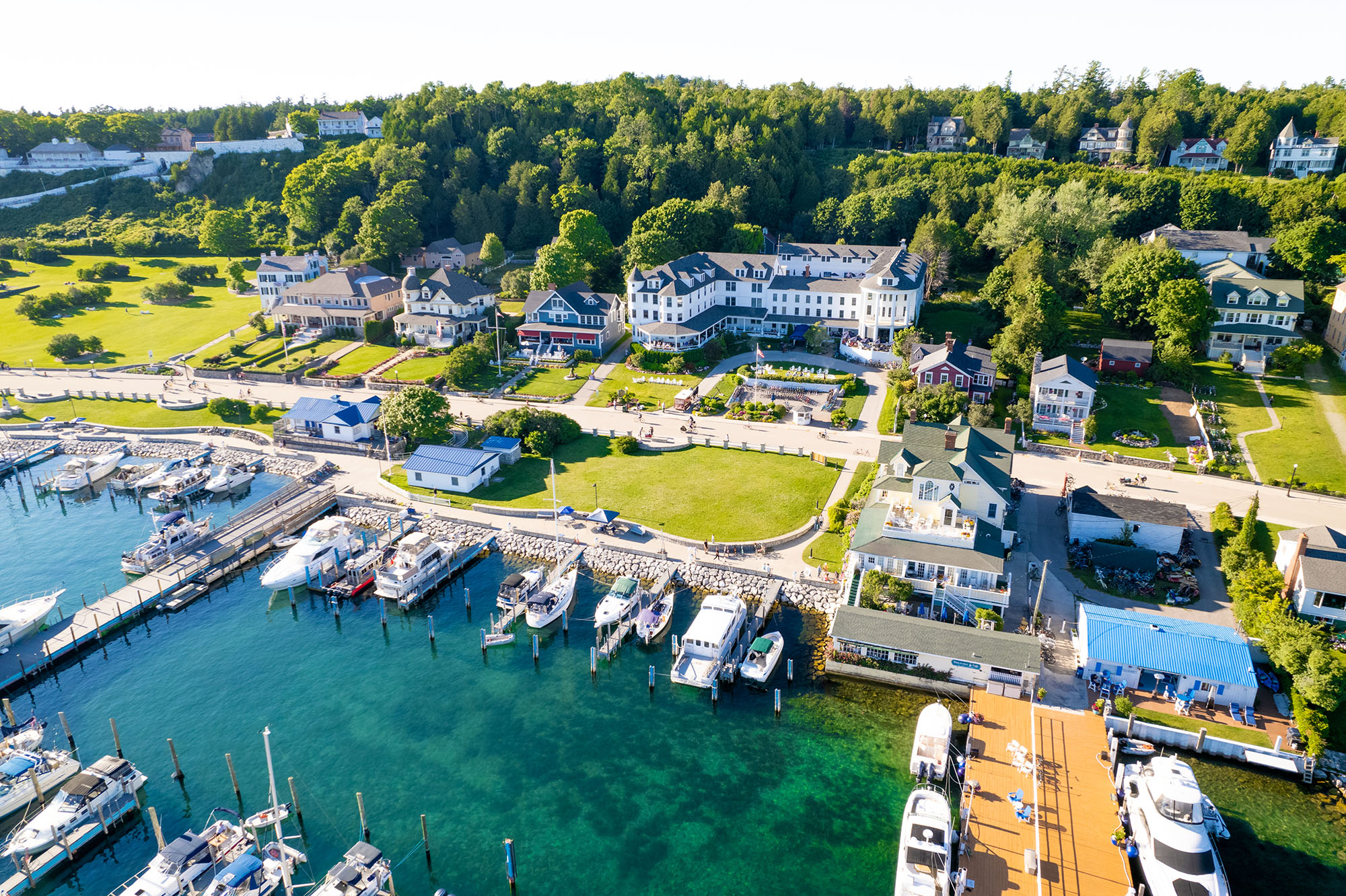 Best Places To Stay Mackinac Island
Figuring out where to stay Mackinac Island is essential for making the most out of your vacation. Although there are various Mackinac Island lodging options, we recommend selecting a family-operated, historic, and charming choice this season. The Island House Hotel and the Pine Cottage Bed & Breakfast offer an authentic Mackinac Island experience you will remember forever.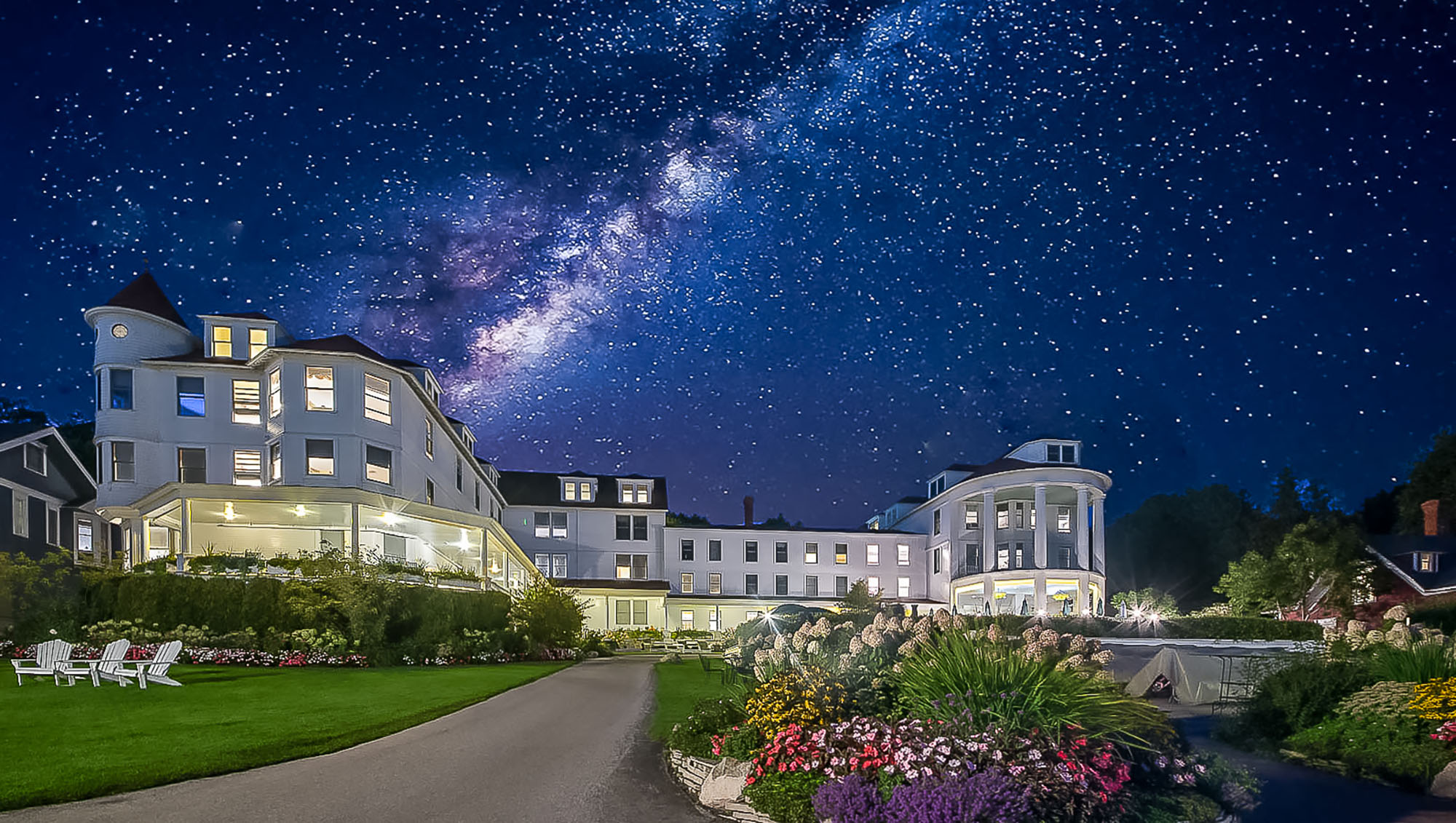 Island House Hotel
Guests choose the Island House Hotel for its historic charm, modern amenities, gorgeous waterfront views, dining experiences, and ideal location to downtown. With traditional, deluxe, premium, and suite room options, the Island House Hotel also has a selection of cozy accommodations available.
Initially built as a beachfront resort in 1852 for Charles O'Malley, the Island House Hotel was one of the first on Mackinac Island. Today, it is the oldest operating hotel on Mackinac Island and a Historic Hotels of America award winner. By providing historic charm and modern conveniences, this family-operated estate has just what you need to experience the magic of Mackinac with all the amenities you look for in a hotel.
Island House Hotel Amenities
When you stay at the Island House Hotel, you will have access to luxury amenities like a heated indoor pool, indoor/outdoor hot tubs, bicycle rental, chimineas, freshly renovated guest rooms, high-speed wifi, and air-conditioning. The Island House Hotel also offers unique vacation packages or enhancements so you can celebrate holidays, birthdays, and romantic occasions in style.
With gorgeous waterfront views and an ideal location to downtown on Main Street, the Island House hotel is the perfect hub for your Mackinac Island adventure. You'll have easy access to all the best shops, attractions, and restaurants on Mackinac Island during your stay!
The Island House Hotel has two dining experiences conveniently located on the estate. For an outdoor lunch in the garden, the Ice House BBQ serves classic fare at umbrella-shaded tables. To experience an elegant dinner with a relaxed sophistication, enjoy a meal at the 1852 Grill Room in the dining room or on the waterfront terrace.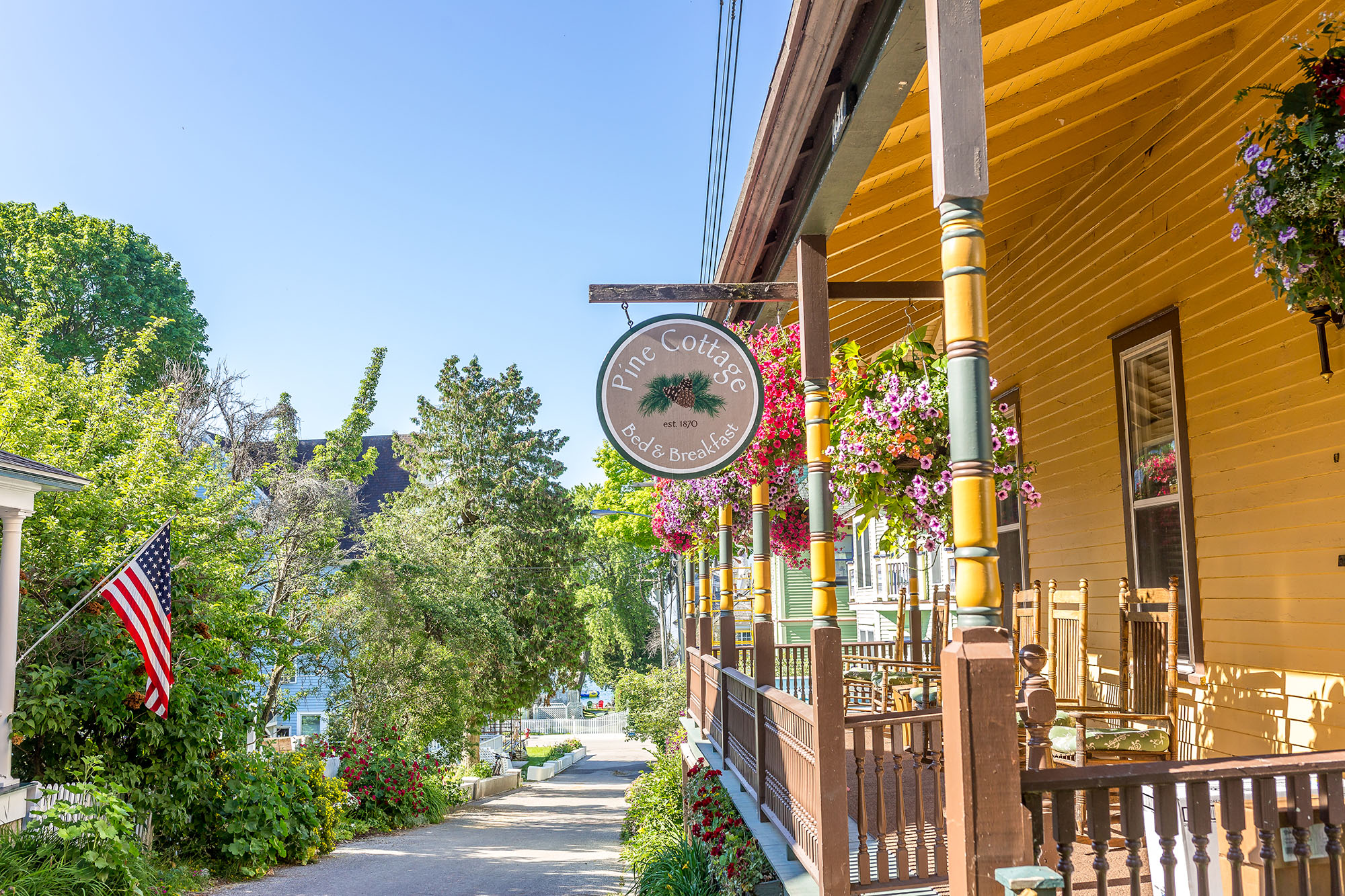 Pine Cottage Bed & Breakfast
The Pine Cottage Bed & Breakfast whisks guests away to a time on the island when life was simple. If you are looking for a quiet and cozy stay on Mackinac Island, this is the perfect bed & breakfast for you.
Featuring a welcoming wrap-around porch with comfortable rocking chairs, the Pine Cottage Bed & Breakfast is the perfect place for watching the horses go by while drinking your morning coffee. This quaint cottage has tons of character with a unique Victorian farmhouse design and rustic hardwood floors. Quietly tucked along Bogan Lane, Pine Cottage Bed & Breakfast is steps away from Main Street, where you can experience all the shopping, dining, and nightlife the island has to offer.
Bed & Breakfast Amenities
Every room in the Pine Cottage Bed & Breakfast features a smart TV and high-speed wireless internet so you can stay connected throughout your stay. Luggage service is also available to and from the ferry docks for your convenience. In addition, you will get to wake up to a delicious breakfast served in the dining room!
At the Pine Cottage Bed & Breakfast, you can select from 15 unique guest rooms with your choice of either a private or shared bathroom. If you have a big group size of up to six guests, we recommend booking one multi-room suite to accommodate.