Mackinac Island Fudge: Chuck's Big Adventure
Share
Array
(
    [networks] => Array
        (
            [0] => facebook
            [1] => pinterest
            [2] => linkedin
        )

    [has] => Array
        (
            [facebook] => 1
            [twitter] => 
            [instagram] => 
            [pinterest] => 1
            [houzz] => 
            [linkedin] => 1
        )

)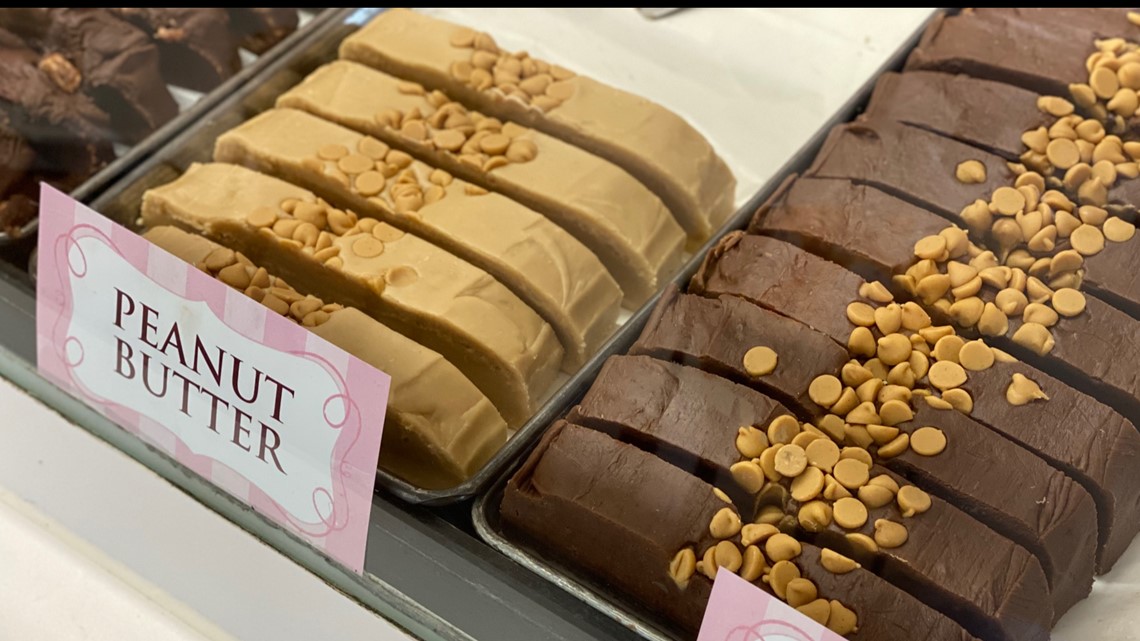 Michigan's Mackinac Island is known for 3 important things:
The opulent Grand Hotel, The 500 horses that shuttle everything from tourists to trash cans, and…. Fudge
During the heart of tourist season, 10,000 pounds of fudge gets made daily by the island's 13 fudge shops. The folks on this tiny island say they are the fudge capital of the world, and they just may be right.
Now, in the year 2020, generations of families have come to this wonderful vacation spot, and many can't imagine a good time without consuming mass quantities of this smooth, rich, delectable treat.
I met with Gregg Callewaert, whose family has been making fudge for decades on Mackinac Island and operates four shops, selling everything from sugar-free fudge (my only option) to Oreo and peanut butter fudge.
Gregg and his brother-in-law, Les, gave me a lesson in the art, and yes, I said art, of making this world class taste treat.
Gregg says Ryba's Fudge really gained prominence 50 years ago when his dad would send the fudge to soldiers in Vietnam. Since then, people from around the world have made Ryba's Fudge Shop a must-stop on their trips to this little slice of heaven nestled in the Straits Of Mackinac.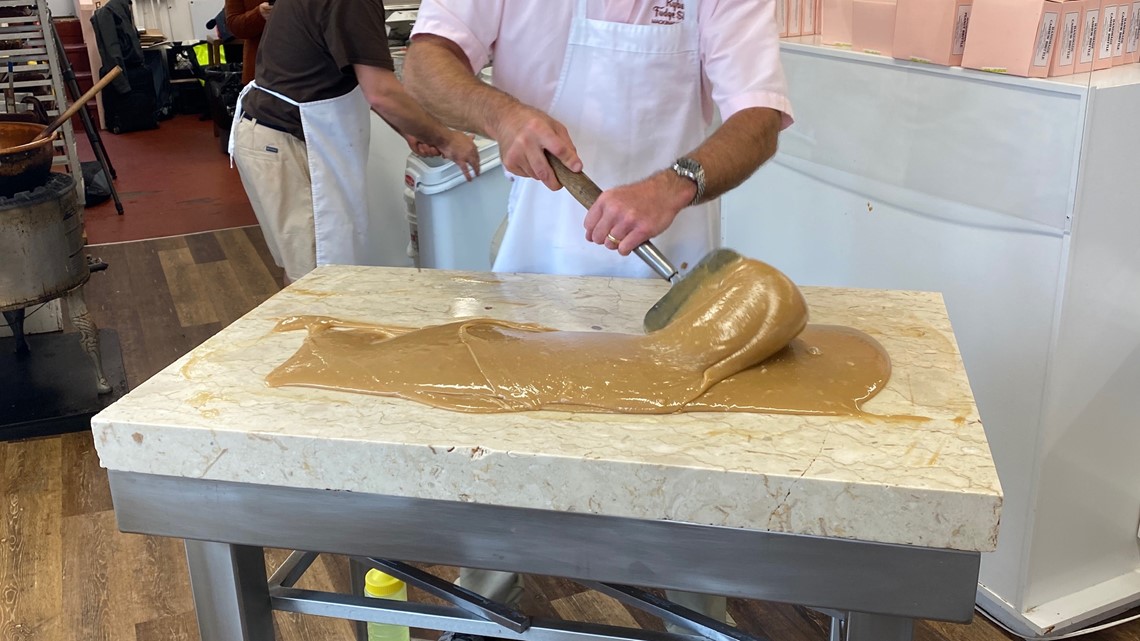 The secret to this melt in your mouth treat?
"When it comes out of the oven, it's about 230 degrees, and it's the consistency of water, so it would run off the slab of marble, but irons hold it for about 15 minutes or so until it cools enough that they can work it," Gregg said.
Watching these craftsmen make the fudge is like watching an artist as they slowly work the fudge back and forth, side to side. As the fudge slowly thickens, I watched Les put peanut butter in the fudge but by the time he finished, the morsels were totally mixed in, and there was no visual evidence that peanut butter was part of the candy. You sure could taste it though!
During the heart of tourist season, 10,000 pounds of fudge get made daily by the island's 13 fudge shops.
Gregg said candy makers were drawn to the island because of the climate.
"It's not particularly hot here, it's pretty moderate during the summer, so before air conditioning and even fans for electricity, candy makers would come up here because their candy wouldn't melt fudge. It's an ideal climate for fudge," Gregg said.
How do you know good fudge from bad fudge? The consistency. Gregg says good fudge should be smooth as butter and if it's gritty, don't waste your time eating it. I found that the warm fudge I consumed melted in my mouth and was incredibly rich.
Tourists here are called "fudgies" by the 500 residents of the island. I proudly accept that moniker. Why not? I ate more fudge in one afternoon than in the last 30 years combined. Most stores, like Ryba's, send their delicious candy all over the country.