Ask an Innkeeper: An Interview with Mackinac Island's Pine Cottage B&B
Share
Array
(
    [networks] => Array
        (
            [0] => facebook
            [1] => pinterest
            [2] => linkedin
        )

    [has] => Array
        (
            [facebook] => 1
            [twitter] => 
            [instagram] => 
            [pinterest] => 1
            [houzz] => 
            [linkedin] => 1
        )

)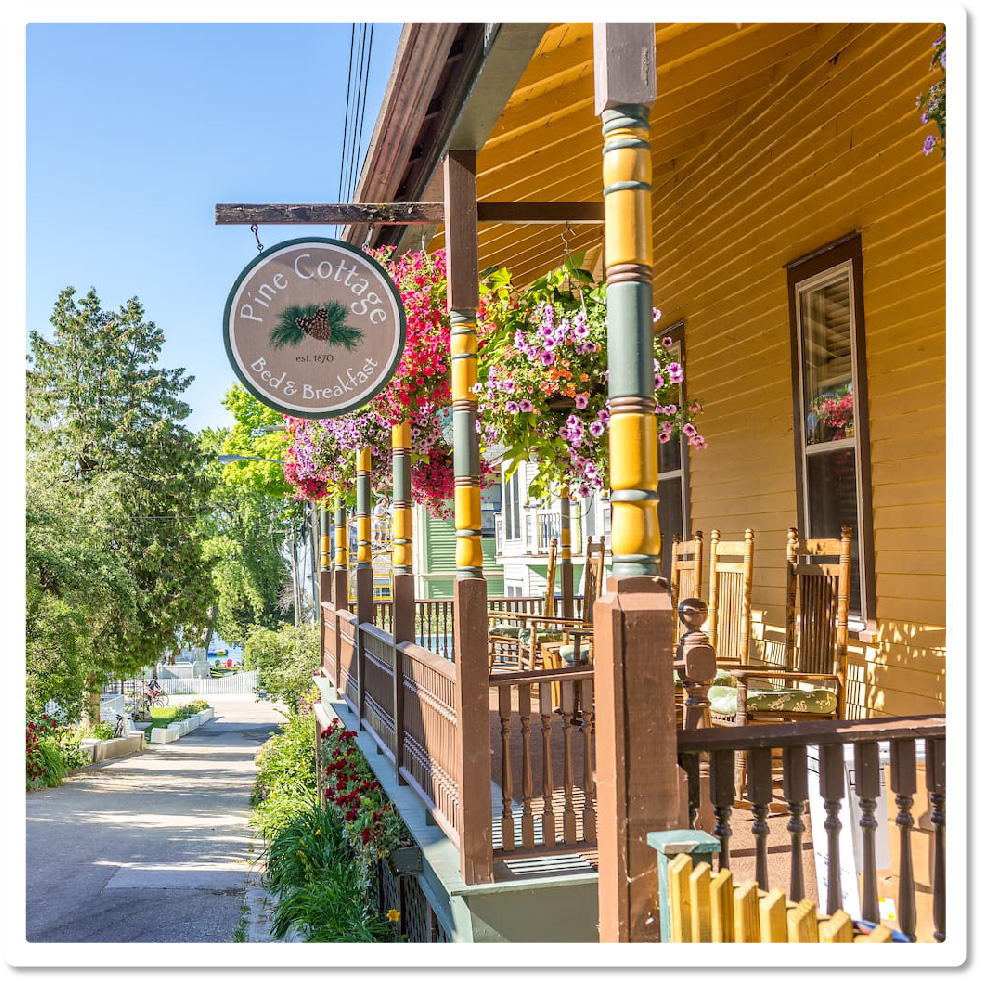 Published on October 12, 2022
Originally built as a private residence in 1870, Pine Cottage Bed & Breakfast is one of Mackinac Island's treasured hideaways, quietly tucked along Bogan Lane just a few steps away from Main Street, Lake Huron, nature trails, and downtown shopping, dining, and attractions.
At first sight, Pine Cottage invites you in with its wrap-around porch and rocking chairs, ideal for appreciating Mackinac Island's natural beauty while listening to the rhythmic "clip-clop" of horses trotting by.
Here's a Q&A with Pine Cottage's Pete Badour about what it's like to be an innkeeper on Mackinac Island:
Q: How did you come to be a Mackinac Island innkeeper?
A: I have worked on Mackinac Island for the last decade in the hospitality industry, spending most of my years in guest services at a historic property. Over the years, I had heard of this "Mystical Unicorn" of an occupation called "innkeeper" but had never considered being one until the opportunity presented itself. I was approached by a friend who felt this would be a good fit for us. After discussing the opening with my wife, we felt it would be an excellent experience for our entire family.
Q: What interested you about being a Mackinac Island innkeeper?
A: A few things really interested me about this position. First, I am able to spend time with my family while working to create a comfortable and welcoming space for our guests. This job allows us to be a part of each other's lives while doing something we can be proud of at the end of the day.
The second thing I like most about being an innkeeper is the ability to connect with people on a personal level. The last property I worked at had several hundred rooms, and most days the only time I would speak with a guest was if they were upset about something. Very few times were interactions genuine.
As an innkeeper, you spend most of the day in the home "living" with your guests. In a way, it is like welcoming family or close friends over for a visit. The stories people will share are fantastic if you have a chance to listen.
Q: What's a typical day like a Mackinac Island Innkeeper?
A: I'm not even sure where to start since no two days are the same. The phrase, "jack of all trades, but a master of none" certainly applies. Luckily, that is something I enjoy. Every day has a different set of challenges and opportunities and resolving them is what I spend most of my day doing.
I believe that being an innkeeper is mostly about being available to visit with your guests, answer their questions, and assist in any way that I can to make sure they not only enjoy their stay at Pine Cottage but have a memorable experience on Mackinac Island as well.
A lot of things happen behind the scenes to ensure that our guests have a comfortable experience while visiting. One moment I may be checking someone in, and the next, I am swept away to address a sink that doesn't quite want to do what is expected of it. The job certainly keeps you on your toes.
I don't believe being a quality innkeeper would be possible without my team. Our housekeepers are top-notch. Just look at our reviews; we always have high remarks on our cleanliness. Our Mackinac Island dockporters who transport luggage to and from the ferry docks are excellent with the volume of luggage and care they handle each piece with. We are fortunate to have the team we do.
Q: What's your favorite part of being a Mackinac Island innkeeper?
A: Waking up to the smell of the fresh breakfast my wife is preparing for our guests. Fresh banana bread or muffins being baked and paired with the smell of fresh coffee means I don't need to set the alarm. If you book a stay at Pine Cottage, you can experience the best-smelling alarm clock in town, too!
Pete Badour is the innkeeper at Pine Cottage Bed and Breakfast on Mackinac Island. I live in a cozy apartment just off the lobby with my wife, Caroline, and daughter, Josephine. This is my first year as an innkeeper. Follow Pine Cottage Bed and Breakfast on Facebook or visit their website http://www.pinecottagemackinac.com/.