Victor Callewart, the passing of a Mackinac Island Legend
Share
Array
(
    [networks] => Array
        (
            [0] => facebook
            [1] => pinterest
            [2] => linkedin
        )

    [has] => Array
        (
            [facebook] => 1
            [twitter] => 
            [instagram] => 
            [pinterest] => 1
            [houzz] => 
            [linkedin] => 1
        )

)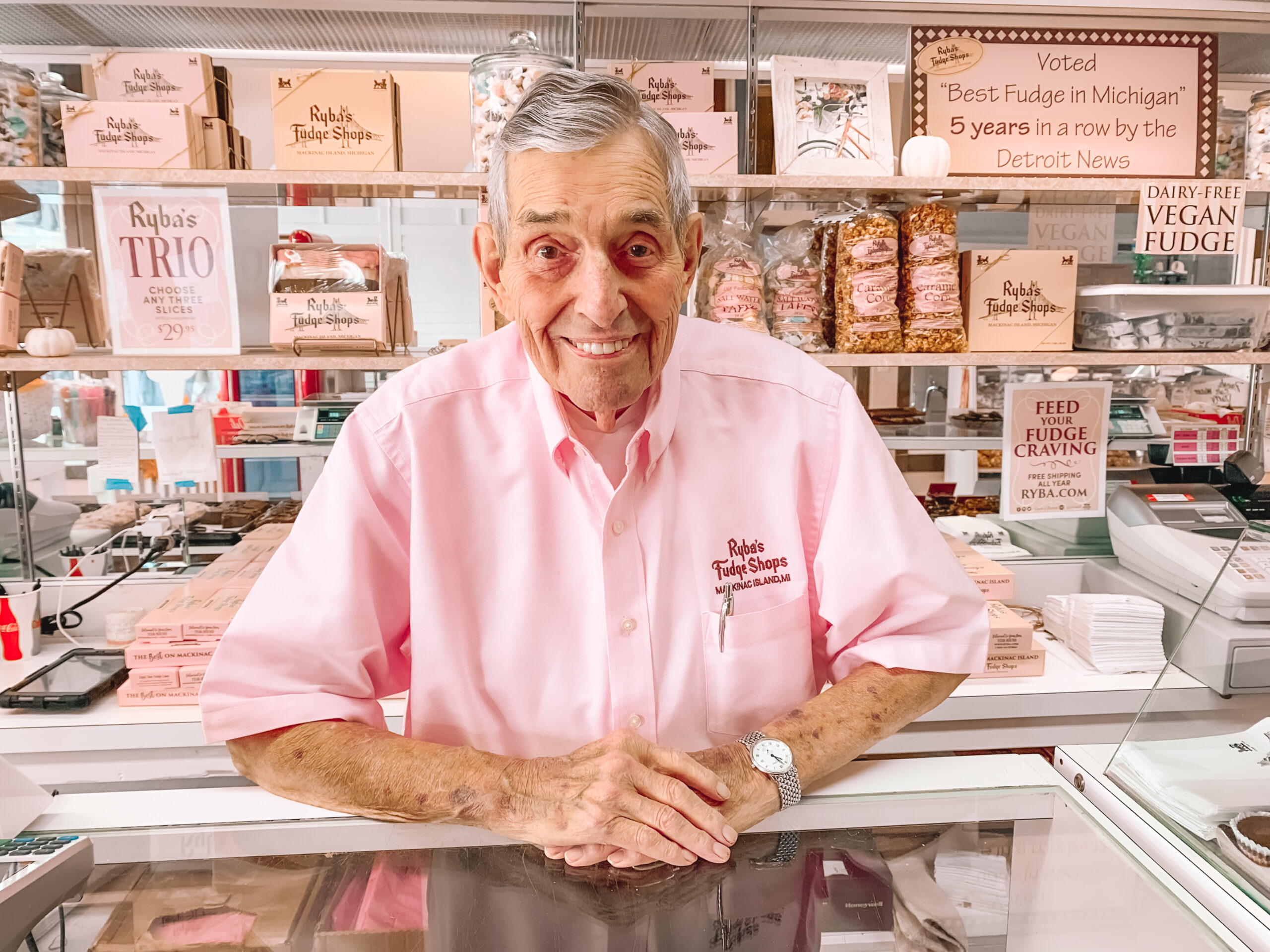 Victor Andre Callewaert, Jr., a distinguished champion for Mackinac Island, passed away at age 85 on May 8, 2022. At the time of his passing, he was a man at peace, grateful for the many blessings of his life and surrounded by people who loved him.
A long-time resident of Mackinac Island with homes in Grosse Pointe Shores and Stuart, Florida, Victor was born on Detroit's east side in 1936 to Victor Andre and Eugenia Callewaert. Victor's entrepreneurial spirit and love of hard work were evident at a young age. At age 11, he sold Detroit newspapers at the corner at Mack and Chalmers directly outside the donut shop owned by another entrepreneur. Harry hired the enterprising teen, who, in time, became his business partner and would go on to become family as his son-in-law.
As they say, the rest is history.
A successful self-made businessman who enjoyed work over school, Victor attended Catholic grade school at St. John Berchman Parish and Servite and Salesian Catholic high schools in Detroit before graduating from Southeastern High School. After high school, Victor served two years in the U.S. Army, stationed in California. During this time, he married his high school sweetheart, Rena, Harry's daughter. Victor and Rena were together for nearly 60 years before her passing in 2009.
After his honorable discharge from the Army, Victor and Rena returned to Michigan, where he resumed working for Harry, who had expanded to include handcrafted 'Mackinac Island' fudge. After bringing Ryba's Fudge to Mackinac Island in 1960, Victor facilitated the expansion and renovation of the Lake View hotel and played a pivotal role in the rescue and renovation of the Island House Hotel, which was slated for demolition after years of neglect. Recently, the Callewaert family was honored as Legendary Family of the Year for their commitment to the preservation of Island House by the Historic Hotels of America.
In 1988 Victor ventured on his own, amassing a business portfolio on Mackinac Island that now includes the historic Island House Hotel, 1852 Grill Room, Ice House BBQ, Ryba's Fudge Shops, Mary's Bistro Draught House, Pancake House, Pine Cottage Bed & Breakfast, Seabiscuit Café, and Starbucks, all of which continue to be owned by the Callewaert family. In addition to his Mackinac Island holdings, Victor's portfolio included Starbucks coffee shops in Chicago and fudge sales at auto shows and other public events.
Victor will forever be known for Ryba's Fudge, a brand that was synonymous with him due to his leadership and hard work. Hundreds of thousands of Mackinac Island visitors have experienced a bit of Island culture thanks to Victor and his ability to know what made for an enjoyable Island visit. In his younger days, he could be seen making fudge in the fudge shop window and, in later years, taking a bite of ice cream dressed in his signature pink shirt and brown slacks.
He was a mentor and employer to thousands of young people who made their way to Mackinac Island for summer employment and often boasted that many have remained personal friends, with several ultimately owning their own businesses.
Over and above managing his business portfolio, Victor gave his time and talent to help make Mackinac Island the special place it is today. He was known for his relentless sales of fundraiser raffle tickets for the Medical Center Auction and the Lilac Festival. Residents would sometimes turn the other way when they saw him coming, knowing Victor would not take 'no' for an answer when supporting worthy causes. His legacy includes financial support for the rebuilding of the Arch Rock Steps in memory of his late wife, the reconstruction of Ft. Holmes, and the Botanical Garden Walk to Arch Rock.
Victor was a member of St. Anne's Catholic Parish, the Mackinac Island Department of Public Works Board of Directors, the Medical Center Advisory Board, and the Grosse Pointe Yacht Club.
Victor's legacy will be carried on by his children and grandchildren who survive him: Mary Callewaert (Sean O'Dell); Todd (Jennifer) Callewaert and their children, Andrew and William; Amy Callewaert and her children, Reese, Brooke, and grandson Tyler Ratliff; Ann (Les) Parrish and their children, Riley and Lillian; Gregg (Angel) Callewaert and their children, Eden and Max. He is also survived by his loving sister Margie (Sr. Anna Mary Callewaert-O'Meara, OCSO); in-laws Janis (Ryba) and Julius Deckert and Kevin Ryba; numerous nieces and nephews; and his beloved friend and soul mate for the past ten years, Liz Boyd. In addition to his parents and wife, Victor was preceded in death by his granddaughter, Barbara Callewaert Ratliff, his dearly loved godparents, Joseph and Julia VerHoye, and their daughter Eugenia (Jeanie), and members of the extended Ryba family.
A private Mass of Christian Burial was celebrated at St. Joan of Arc Catholic Church in St. Clair Shores with Msgr. George Michalek officiating. Victor's remains will be buried next to his late wife, Rena, on Mackinac Island. A processional to the cemetery will leave the Island House Hotel at 1:00 p.m. on Tuesday, May 24, 2022. Those wishing to pay their respects to the family and celebrate Victor's life are encouraged to gather between 2:30 p.m. and 3:30 p.m. on Tuesday, May 24, 2022, on the lawn of the Island House Hotel. Should it rain we will move inside.
Friends wishing to remember Victor are reminded to "Think Pink," as he would say, and can contribute to St. Anne's Catholic Parish, 6836 Huron Road, Mackinac Island, Michigan 49757; the Mackinac Island Medical Center,7474 Market St., Mackinac Island, MI 49757; or the charity of one's choice. Another way to honor Victor would be to purchase an extra ticket (or two) for the Lilac Festival Raffle or Medical Center Auction. Those wishing to pay their respects to the family and celebrate Victor's life are encouraged to gather between 2:30 p.m. and 3:30 p.m. on Tuesday, May 24, 2022, on the lawn of the Island House Hotel. Should it rain it will be moved inside. Many thanks to all of you for reaching out to share your stories and express your condolences.
Victor Callewaert Photo Gallery