Winter Projects on Mackinac Island
Share
Array
(
    [networks] => Array
        (
            [0] => facebook
            [1] => pinterest
            [2] => linkedin
        )

    [has] => Array
        (
            [facebook] => 1
            [twitter] => 
            [instagram] => 
            [pinterest] => 1
            [houzz] => 
            [linkedin] => 1
        )

)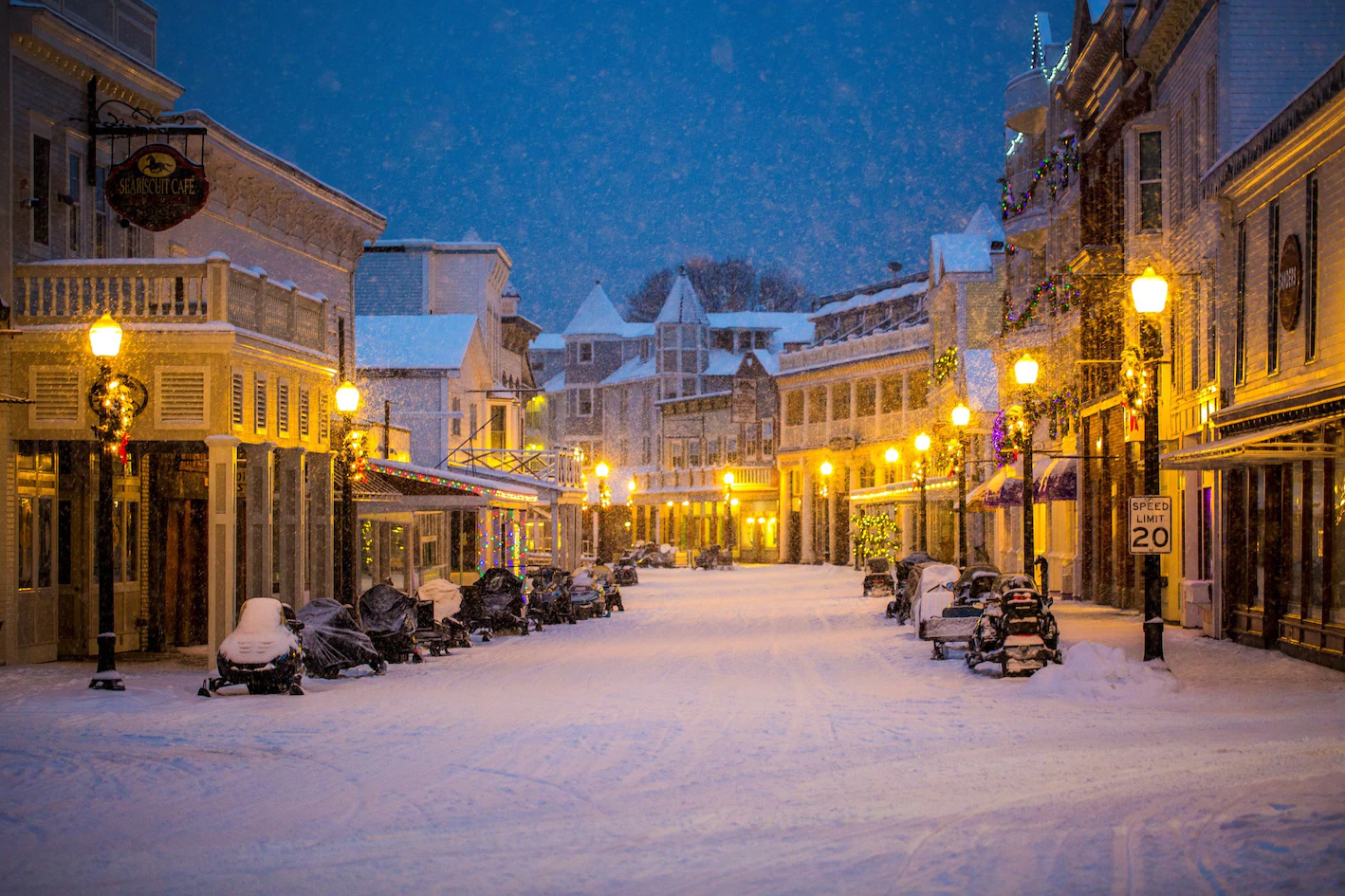 The lobby at Island House Hotel is getting new paint and flooring this winter. At Grand Hotel, the swimming pool area is undergoing renovations. And an exhibit inside Fort Mackinac's oldest building has been completely gutted.
Even though Mackinac Island doesn't "open" to visitors until the spring, it's not like the beautiful and historic Northern Michigan vacation destination is in winter hibernation. There's a lot happening right now to prepare for the arrival of visitors in just a couple of months.
"I think most people assume that Mackinac Island goes to sleep during the winter and all of the employees are on vacation," said Heather Tamlyn, director of marketing for Island House Hotel and its affiliated restaurants and shops.
"While Mackinac Island is much quieter without the summer visitors, workhorses and employees, there is a lot of behind-the-scenes work happening."
As the home of Mackinac Island State Park, Mackinac Island never really closes. You can visit year-round and experience natural wonders such as Arch Rock and Sugar Loaf. But it's in late April and early May that Mackinac Island really rolls out the red carpet to visitors by resuming regular ferry service from the mainland.
Until then, Mackinac Island shop owners, innkeepers, and restaurateurs are busy getting everything ready for your visit. Here are just some of the ways Mackinac Island is preparing right now for a new season of hospitality.
Preservation of historic buildings
Part of the charm of Mackinac Island is the historic character of the homes, cottages, hotels, and resorts. Victorian architecture transports you back in time to another era, a time when life moved at a slower pace. Of course, buildings that date to the 1800s (or even older) need a lot of care. For example, Fort Mackinac has 14 original buildings that date as far back as 1780. Just the general maintenance of the historic buildings and grounds "is a never-ending process" that continues every winter, said Dominick Miller, spokesman for Michigan State Historic Parks.
In addition to ongoing maintenance of historic buildings, hardly a winter goes by without updates to some of the 1,600-plus rooms in Mackinac Island's one-of-a-kind hotels, resorts, and B&Bs. The historic Island House Hotel is renovating its two-bedroom suites, giving the lobby a fresh look with new flooring and paint "and catching up on the never-ending list of updates and repairs needed to preserve and protect the historic building," Tamlyn said.
While a couple of restaurants on Mackinac Island typically stay open all year, most close their doors for the winter. It's during this time that restaurants install new equipment, redo the layouts of their dining rooms or experiment with new dishes for the upcoming season. For example, Pancake House is getting a facelift and fresh menu this winter while Ice House BBQ will add craft beer and cocktails. Mackinac Island restaurants also are continuing to adapt to the COVID-19 pandemic this winter by working on more packaged, take-out options, for example.
Mackinac Island's one-of-a-kind shops typically spend the winter cleaning up from the previous season and preparing for the upcoming season. After shipping out orders of unique Mackinac Island items during the busy holiday shopping season, it's time to get started on hiring for the next travel season, buying new products, painting shelves, and completing any in-store changes. For example, Little Luxuries of Mackinac Island is getting a facelift this winter with some new displays and a rearranged store layout. "This has to be done in the offseason because once we re-open May 1st we are busy every day until the end of October," said Nicole Doud, who owns three stores on Mackinac Island. "The winters go by very quickly, believe it or not. Our list of to-dos seems to grow each offseason and goes faster each year."