Fall for Mackinac Island
Share
Array
(
    [networks] => Array
        (
            [0] => facebook
            [1] => pinterest
            [2] => linkedin
        )

    [has] => Array
        (
            [facebook] => 1
            [twitter] => 
            [instagram] => 
            [pinterest] => 1
            [houzz] => 
            [linkedin] => 1
        )

)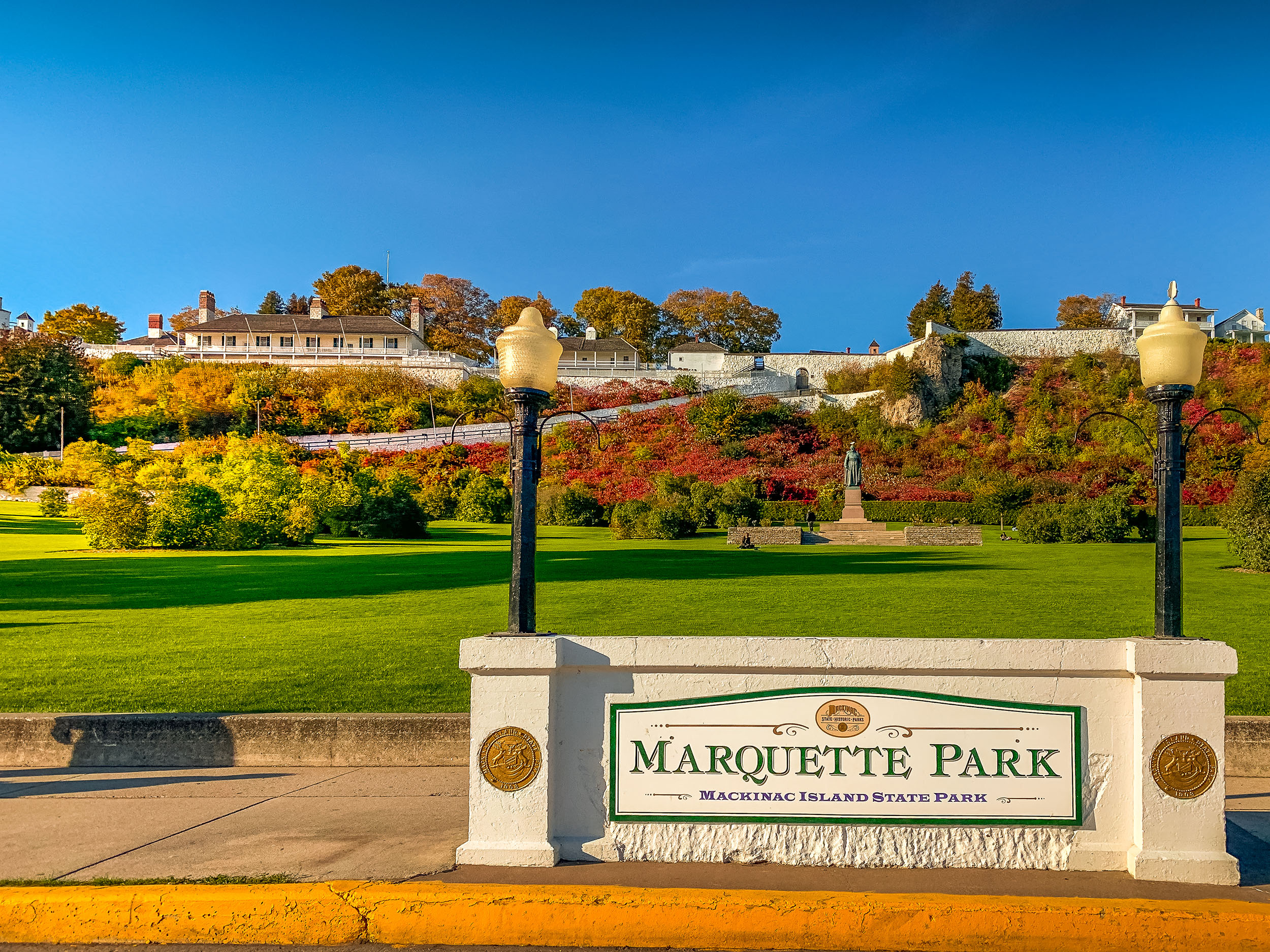 the Perfect Destination for Fall in Michigan
When people think of Mackinac Island, they often drift to its summertime charm and bustling crowds. However, the island's best-kept secret lies in the enchanting fall season. As the kids return to school and the tourist crowds dwindle, make the most of the dwindling crowds and enjoy all Mackinac Island has to offer without the wait. Join us as we uncover the wonders of visiting Mackinac Island during the fall, where the peaceful ambiance and vibrant community create the perfect pairing for a relaxing weekday getaway.
With end-of-the-season sales, exclusive fall menu items, and gorgeous sunsets that match the autumn leaves, Mackinac Island is the perfect place to experience Michigan's most beautiful season. With the lowest hotel rates of the year, book a weekday stay for a bargain, especially in early October!
Enjoy the Mackinac Island Fall Colors
Nestled in Northern Michigan, Mackinac Island boasts a reputation for its outstanding natural beauty, especially in autumn. As the leaves become vivid shades of crimson, gold, and auburn, the island becomes an irresistible destination for nature enthusiasts. Immerse yourself in the brilliant fall scenery by embarking on a colorful drive-your-own carriage tour. With open sidewalks and streets, you can meander at your own pace, taking in the island's rich history while basking in the magnificently colorful views.
Indulge in Decadent Fall Treats
Move aside, pumpkin pie! Ryba's Mackinac Island Fudge Shops has something even better for you—their signature pumpkin fudge. Combining a flavorful base of pumpkin with hints of cinnamon, ginger, and vanilla, this sweet treat perfectly encapsulates the essence of autumn. Anticipated by locals and visitors alike, the pumpkin fudge is sure to delight any fall and holiday lover. Don't miss out on the chance to savor this seasonal delight during your visit.
Attention, bargain-hunters! Fall marks the arrival of end-of-season sales on Mackinac Island, offering the perfect opportunity to snag some fantastic deals. Explore the charming shops on Main Street and take advantage of the discounted prices. Whether shopping for early holiday gifts or treating yourself, these once-a-year sales will help you find unique treasures while saving a penny or two.
Seasonal Dining Experiences
Michigan's fall harvests are a culinary delight, and Mackinac Island's chefs know how to showcase the flavors of the season. Indulge in the island's diverse and divine cuisine crafted from locally grown apples, butternut squash, and pumpkins. A visit to the 1852 Grill Room is a must to experience their famous butternut squash soup and delicious pumpkin pie. For those seeking a festive cocktail, head to the Seabiscuit Café and warm up with their fabulous apple cider martini. Mackinac Island's restaurants offer a feast for the senses, combining the beauty of fall with unforgettable flavors.
Enjoy Tranquil Fall Nights on Mackinac
In need of an evening to decompress and recharge? Look no further than a scenic autumn night on Mackinac Island. As the sun dips below the horizon, the sky transforms into a canvas of different shades of pink, orange, red, and yellow. The island's multi-hued sunsets are nothing short of breathtaking. Wrap yourself in a cozy lap blanket, grab a bottle of wine, and head to the toasty chimeneas on the lawn of Island House Hotel. There, you can make s'mores, gaze at the stars, and let the tranquility of the fall nights envelop you.
Mackinac Island Weather in October
One of the many advantages of visiting Mackinac Island in early fall is the mild weather. Bid farewell to the summer heat and embark on outdoor adventures without breaking a sweat. Consider biking the famous 8-mile loop around the island, where you'll be treated to panoramic views of the fall foliage and the island's natural beauty. Island House Bike Rentals offer great rates, ensuring you can experience the scenic autumn vistas of Mackinac Island at your own pace.
Fall Getaway Specials on Mackinac
As if the stunning scenery, unique cuisine, and reduced crowds weren't enticing enough, Mackinac Island offers special end-of-season pricing that makes a fall trip irresistible. Island House Hotel presents the Fall Getaway Package, a fantastic deal that includes breakfast, ferry tickets, luggage transfer, a slice of pumpkin Mackinac Island Fudge, and a souvenir fleece lap blanket. With this package, you'll have everything you need to enjoy a memorable fall escape to Mackinac Island.
When to Book Your Fall Getaway
Mackinac Island is a true gem during the fall season, offering a perfect blend of natural beauty, culinary delights, and seasonal charm. Whether you're captivated by the vibrant fall foliage, savoring decadent treats, exploring the shops for great deals, indulging in seasonal dining experiences, or unwinding under the starry autumn sky, Mackinac Island has something for everyone. Take advantage of the peaceful ambiance, the attractive weather, and the special fall getaway packages to make your visit to Mackinac Island an unforgettable experience. Plan your trip today and immerse yourself in the wonders of Mackinac Island in all its autumn splendor.