Mackinac Island hotel's patio hideaway draws diners with new stone-fired pizza oven
Share
Array
(
    [networks] => Array
        (
            [0] => facebook
            [1] => pinterest
            [2] => linkedin
        )

    [has] => Array
        (
            [facebook] => 1
            [twitter] => 
            [instagram] => 
            [pinterest] => 1
            [houzz] => 
            [linkedin] => 1
        )

)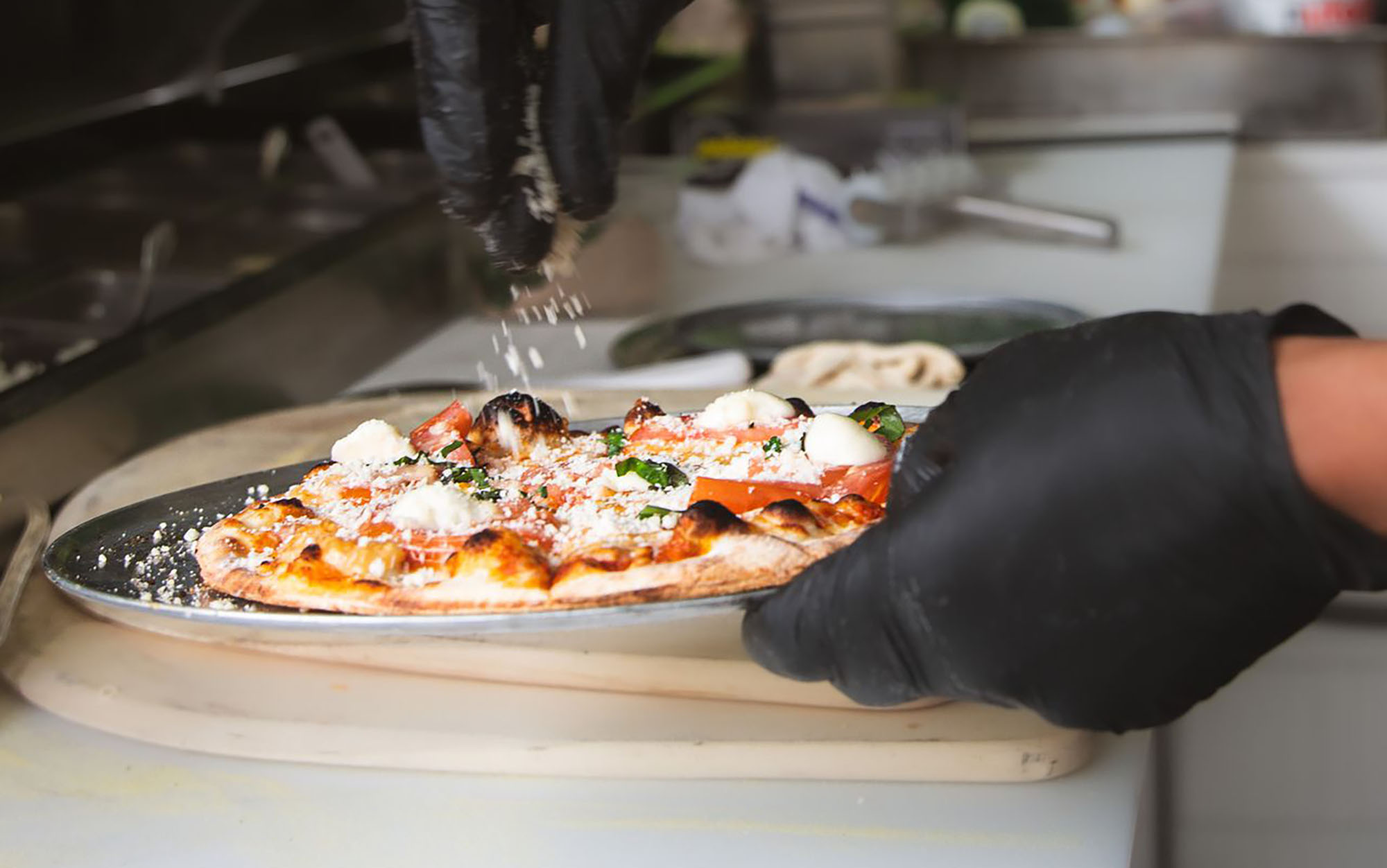 Part of the fun of visiting Ice House BBQ – the outdoor patio and restaurant area tucked behind Island House Hotel – is getting there. Open to hotel guests, local and visitors alike, this shaded hideaway spot is just steps away from the bustle of Main Street. A walkway along the west side of the hotel opens up into an inviting backyard garden spot. And this summer, there's a big new draw.
A outdoor stone-fired pizza oven was installed after Memorial Day and has been turning out steady orders of thin-crust pizzas for the lunch and dinner crowds. Island House managers say it's been a nice addition to the outdoor restaurant area that's been known for its homestyle smoked barbecue menu and casual atmosphere.
"It's really a hidden gem," said Heather Tamlyn, director of marketing for Island House, which is Mackinac's oldest historic hotel and has a beautiful waterfront view directly across from the marina. Island House is not only a state landmark, it's the only hotel located within the boundaries of Mackinac Island State Park and is actually owned by the state.
But it's the generations of the Callewaert family who for more than 50 years have been the caretakers of this resort-style hotel. (See the Island House history video below). They are the ones who have worked diligently to bring it back from a dilapidated shell of a hotel in the early 1970s to the award-winning gem it is today. In addition to the property renovations, Island House's dining options have continued to expand.
The Ice House restaurant area was added in 1995. It happened about the same time the hotel's new pool went in and was capped by three up-top hotel suites boasting great island views.
Ice House is open for lunch and dinner. You can relax and eat there, or pick up your order for take-out. There are tables shaded by umbrellas on an expanded brick patio area, and comfortable lawn furniture that makes you feel like you're settling into someone's swanky backyard party.
The area is dog-friendly for well-behaved and leashed pets. There's also plenty of room for the pint-sized crowd to burn off some energy. You can even catch some live music.
The stone-fired pizza oven has been a big hit with guests, crisping up 10-inch pies in seven different flavor combinations. See the menu here.
Smoked brisket sandwiches and its very shareable Sugarloaf Stacked Nachos piled high with pulled pork also remain fan favorites.
The family behind Island House is now in its fourth generation of island hospitality. Mackinac destinations also under the family umbrella include: Ryba's Fudge Shops, Pancake House, Pine Cottage, Seabiscuit Café, Mary's Draught House and the 1852 Grill Room.
Planning an autumn getaway? Island House Hotel has a Fall Getaway package with special pricing from Sept. 5 through Oct. 22.