Fudge Festival 2022
Share
Array
(
    [networks] => Array
        (
            [0] => facebook
            [1] => pinterest
            [2] => linkedin
        )

    [has] => Array
        (
            [facebook] => 1
            [twitter] => 
            [instagram] => 
            [pinterest] => 1
            [houzz] => 
            [linkedin] => 1
        )

)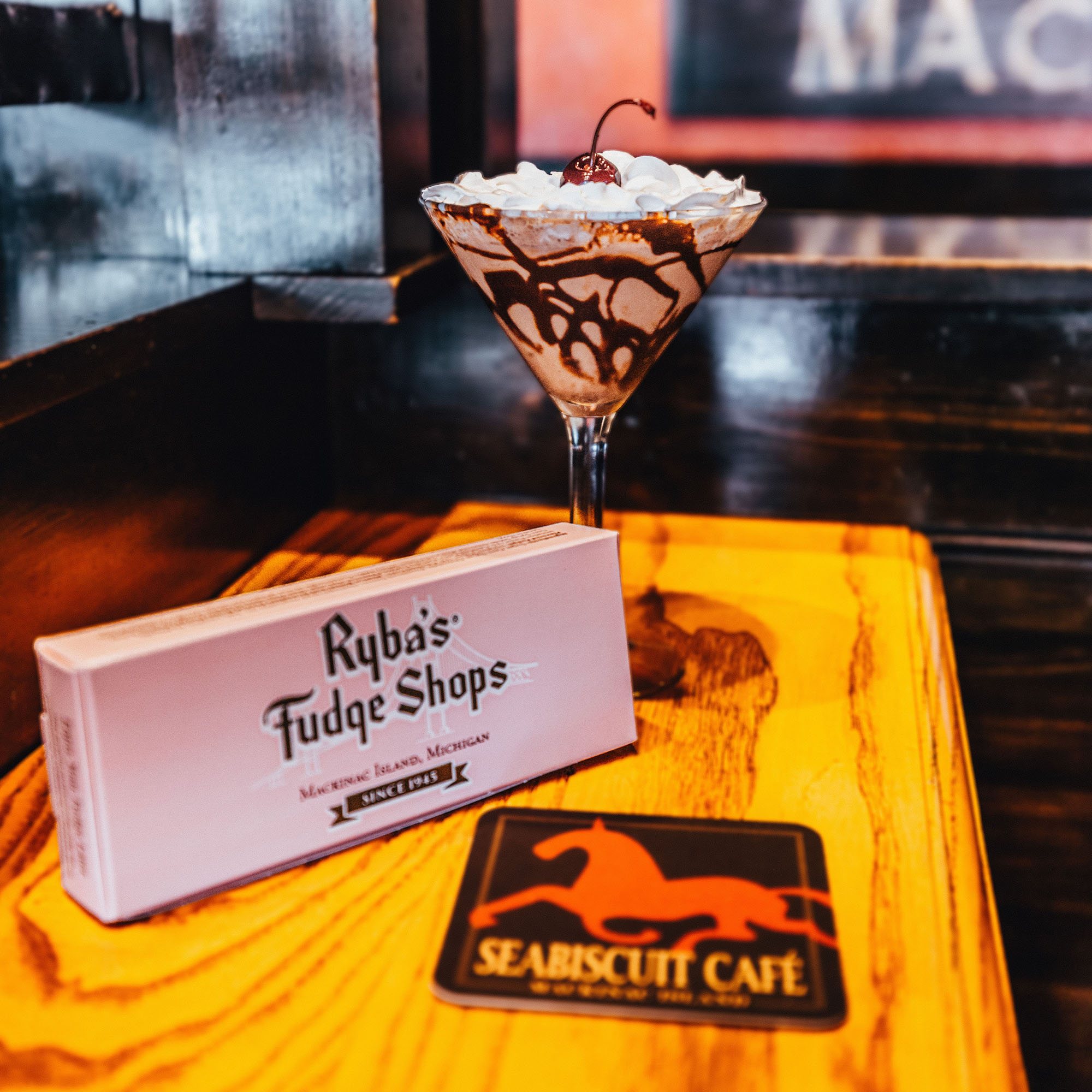 Mackinac Island and fudge go together as horses go with carriages delivering visitors around the charming island.
The sweet scent of fudge fills the air around the Victorian-era buildings that line Main Street, where thousands of Fudgies retreat to year after year to indulge in the delicious treat while enjoying the relaxed pace of island life. That sweet smell leads to Ryba's Fudge Shop!
In the 1960s, when Ryba's Fudge Shop first opened on the island, Harry Ryba, the owner, declared himself the Fudge King of Mackinac Island and coined the name "Fudgie" as a term of endearment for the sweets-loving island visitors coming to Mackinac Island in search of his delicious treats in the signature pink box. After all, almost everyone who comes to Mackinac Island has at least a bite of fudge while they are here.
As the years went on, the term Fudgie grew to include all visitors who come from far and wide to enjoy the Northern Michigan region. Mackinac Island and Northern Michigan are a summer playground for couples and families who come to unwind on the beaches and waters of the Great Lakes, hike the pristine forests, and shop and dine in friendly resort towns like Mackinac Island.
Step into one of Ryba's four Mackinac Island shops on any given day in the summer, and you're sure to encounter other Fudgies lured into the shop by the bright colors and sweet smells while watching confectionary artists hold court over long marble slabs, crafting molten liquid into creamy, smooth fudge. After taking in the delicious smell, no one can resist the urge to taste. Patrons often leave with arms laden with fudge for themselves to enjoy and more to take home to share with family and friends.
Do you sample the fudge and take home the sweet delectable pink boxes filled with fudge? If you answered yes, you're most likely a Fudgie. Read on; we have tips for how to be a Fudgie.
Everyone visiting Mackinac Island can be a Fudgie. The more, the merrier! To get started, here are some tips.
Watch the fudge-making process. The fudge-making process is repeated daily at Ryba's, where 52 batches are produced, totaling 1,456 fresh slices of fudge every day. That means there are a lot of opportunities to be a Fudgie and be mesmerized by the skillful fudge makers and intoxicated by the beautiful smells wafting through the air.
Rent a bike and tour the island. Attempt to maneuver around the horses, the horse droppings, and other Fudgies; it's a fun way to explore the island.
Buy some Mackinac Island gear. A true Fudgie has a pink box of Ryba's fudge and is sporting their new Mackinac Island t-shirt.
A Great Time to Be a Fudgie
Every August, the Fudge Capital of the World celebrates its favorite sweet with the Mackinac Island Fudge Festival. The island takes its love of fudge to an even higher level during the weekend of the Fudge Festival with games, contests, an outdoor movie, fudge-inspired dishes at local restaurants, and fudge-making demonstrations. If you want to be a Fudgie or just love fudge, check out the family-friendly Mackinac Island Fudge Festival.
Join Ryba's Fudge Shops for Games, Prizes & Fudge Inspired Cocktails
To celebrate the Mackinac Island Fudge Festival, Ryba's Fudge Shops will be hosting contests, events, and fudge-inspired happy hours. All of Ryba's Fudgies receive a Free Tote Bag with the purchase of Ryba's Special Package!
Win a Best of Ryba's Goodie Bag! Stop into any Ryba's Fudge Shop to take the Fudge Festival Quiz for a chance to win a Best of Ryba's Goodie Bag.
Ryba's Fudge Festival Giveaways! Ryba's Fudge Shop is giving away a Mackinac Island Getaway for two! The trip includes One Night at Island House Hotel, Best of Ryba's Gift Box, and a $100 906 Rewards Dining Card. Get your BINGO card at any Ryba's Fudge Shop. Instructions and details are listed on each card.
Channel your inner sleuth on the Fudge Quest.
Join the Family Fun Games at Windemere Park.
Meet Michigan's Sugar Queen & Her Court at Ryba's Corner Store.
Win SWEET prizes for participating in activities throughout the weekend!
Stop into Ryba's Corner Store at 7314 Main Street any time between 9 am and 5 pm to watch a live fudge-making demonstration.
Enjoy a Ryba's Fudge Infused Happy Hour
Ice House BBQ, Noon-2 PM;
Mary's Bistro Draught House, 2 PM-4 PM;
Seabiscuit Café, 4 PM-6 PM;
1852 Grill Room, 6 PM-8 PM