Island House Hotel's new manager understands how to create a Mackinac experience
Share
Array
(
    [networks] => Array
        (
            [0] => facebook
            [1] => pinterest
            [2] => linkedin
        )

    [has] => Array
        (
            [facebook] => 1
            [twitter] => 
            [instagram] => 
            [pinterest] => 1
            [houzz] => 
            [linkedin] => 1
        )

)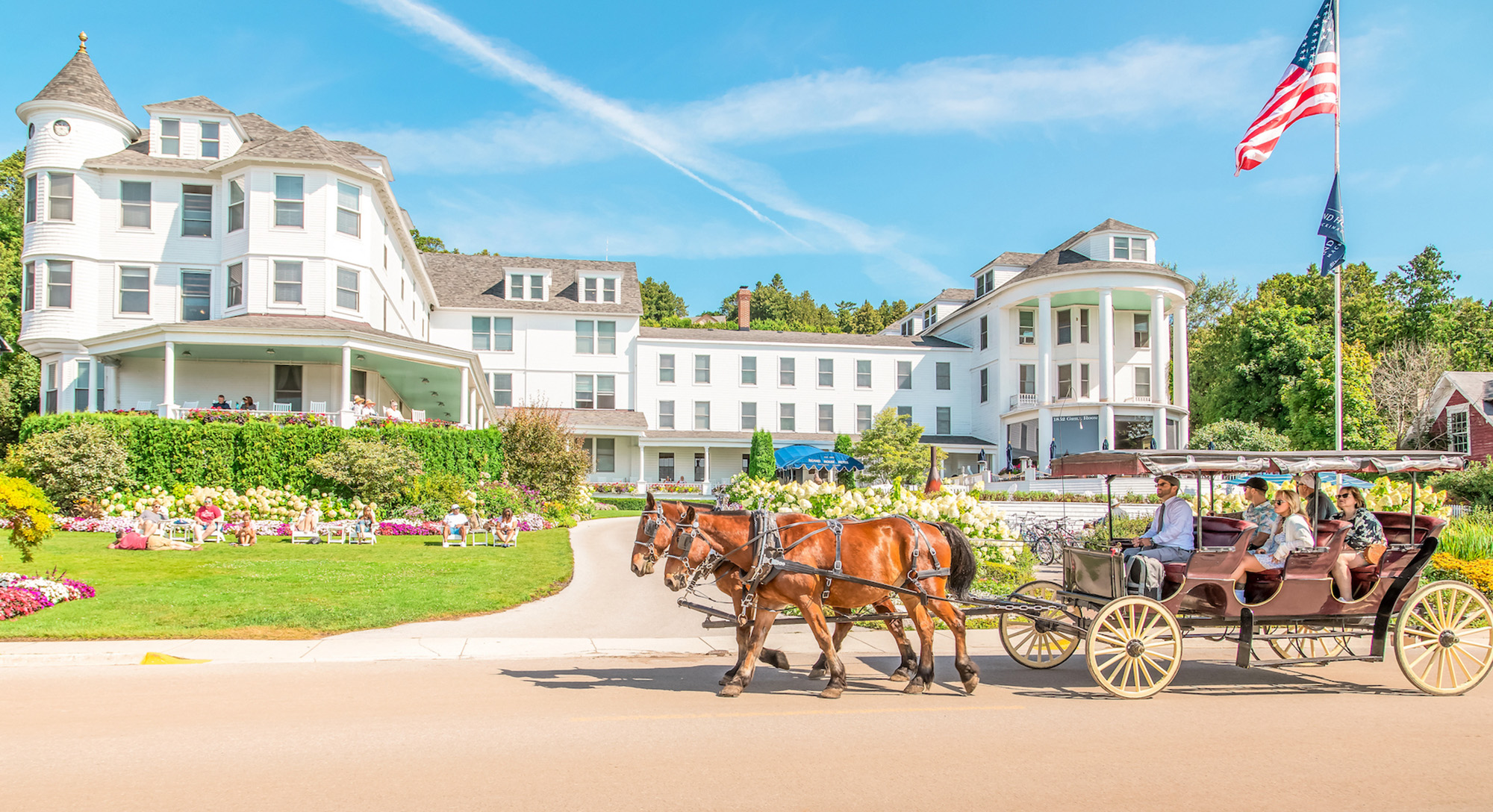 A few months ago, when Peter Badour stepped into his new role as general manager of the historic Island House Hotel, he did a solo walk-through of the sprawling property. He wanted to get a feel for it, see the huge layout for himself, walk the corridors and poke his head into empty rooms.
"I did just walk in by myself," Badour says, remembering that day. The experience was a little like meeting someone for the first time, and knowing you'd be lifelong friends. "I was really impressed," said Badour, 39. "I guess I had not realized how nice it was inside. You can tell there's been a lot of effort into the rooms, the upkeep. I got a sense of how much (the Callewaert family) actually cares about the property."
An island resident for more than a decade, Badour has a notable Mackinac hospitality background. He spent 10 years at Grand Hotel, where as the resident manager he worked directly with its steady stream of in-season guests, before leaving to take a job as the resident innkeeper of the Pine Cottage Bed and Breakfast. That put Badour squarely into the fold of the island's well-known Callewaert family. Their holdings include Pine Cottage, Ryba's Fudge Shops and the Island House Hotel – a huge Main Street landmark that is also the island's oldest hotel resort.
When the general manager position at this grande dame opened up, Badour said he was honored to be considered. Given his background, his new job is a pretty amazing fit. Badour has a passion for historic properties. He loves the stories behind them. He's keen to know the details of their expansion over the decades. And he recognizes how generations of families seem to fall in love with particular places, returning again and again.
The Island House Hotel checks all those boxes. Built in 1852 as a beach-front hotel, Island House was later moved across the street so it could expand as demand for its rooms increased. The resort is still family-operated. It is a Historic Hotels of America award winner, and it's the only hotel located within the boundaries of Mackinac Island State Park – an added twist that is part of its interesting backstory. The Callewaerts actually lease the hotel from Mackinac State Historic Parks.
Badour said working for the Callewaerts just seemed like a natural fit. "I had known the family for a while through my relationships here on the island and held in high regard the things they have accomplished here. Joining their team was a great match."
Badour's hospitality pedigree also means he understands the Mackinac mantra when it comes to guests: It's not just a vacation, it's helping to create a memory-making experience. That's true whether you're a behind-the-scenes staff member or the general manager – something Badour takes to heart.
When the Island House Hotel's doors open for the season on May 5, he plans to be a familiar presence in the main areas. "One of the most important things is the guest experience, and creating memories for guests," he said of his job duties. "I have made it sort of a personal goal of mine to be in the lobby as much as possible. I want to meet the guests. I want to shake their hands and personally welcome them to the hotel."
The resort's rich history adds a layer with each new guest. And he always wants to be available to hear a guest's story about why their family has come back to Island House. "Whether they honeymooned here years ago and are now bringing their grandkids for the first time, or worked here for a summer and are returning to reminisce, we are always thrilled to hear what the Island House means to our guests."
The Island House Hotel is also home to the 1852 Grill Room and the Ice House BBQ. Both of these popular spots are getting a little refresh in the off-season.
Badour understands personally why having a sense of place tied to Mackinac is so important. He and his wife, Caroline, decided to live on the island full-time 11 years ago. They consider themselves very lucky to be raising their young daughter, Josie, in a place where she can attend the small island school and participate in close-knit community activities, like the island's recent Christmas production of "The Grinch." Josie had a star turn as little Cindy Lou Who.
"We have found so much joy in living on Mackinac Island and raising our daughter here," he said. "Being a part of a smaller community built on hospitality is fantastic."
He and Caroline have found the rhythm of seasonal island work life. Last year, they worked together at Pine Cottage. This year, Caroline will take over innkeeper duties there. In the winter, Caroline Badour works part time at the island school's preschool program.
"We work hard during the busy summer season, then it settles down for the winter allowing for travel and focusing on other activities," he said. "Living on Mackinac Island truly is a dream come true."
Badour says it's easy for him to enthusiastically pass that sentiment on to guests. This spring, he'll have tips for guests on the best hiking trails to try out, or spots to see some lovely wildflowers. But most of all, he wants to be on hand as memories are being made.
"Because I love Mackinac Island, it's easy to pass my passion for it to visitors. I am excited to have the opportunity to do more of that at the Island House."
To learn more about the Island House Hotel's fascinating history and the legacy of the late Victor Callewaert Jr., watch the video recently released by the resort:
The Story of Island House Hotel on Mackinac Island