Bicycling on Mackinac Island: Renting vs. Bringing Your Own
Share
Array
(
    [networks] => Array
        (
            [0] => facebook
            [1] => pinterest
            [2] => linkedin
        )

    [has] => Array
        (
            [facebook] => 1
            [twitter] => 
            [instagram] => 
            [pinterest] => 1
            [houzz] => 
            [linkedin] => 1
        )

)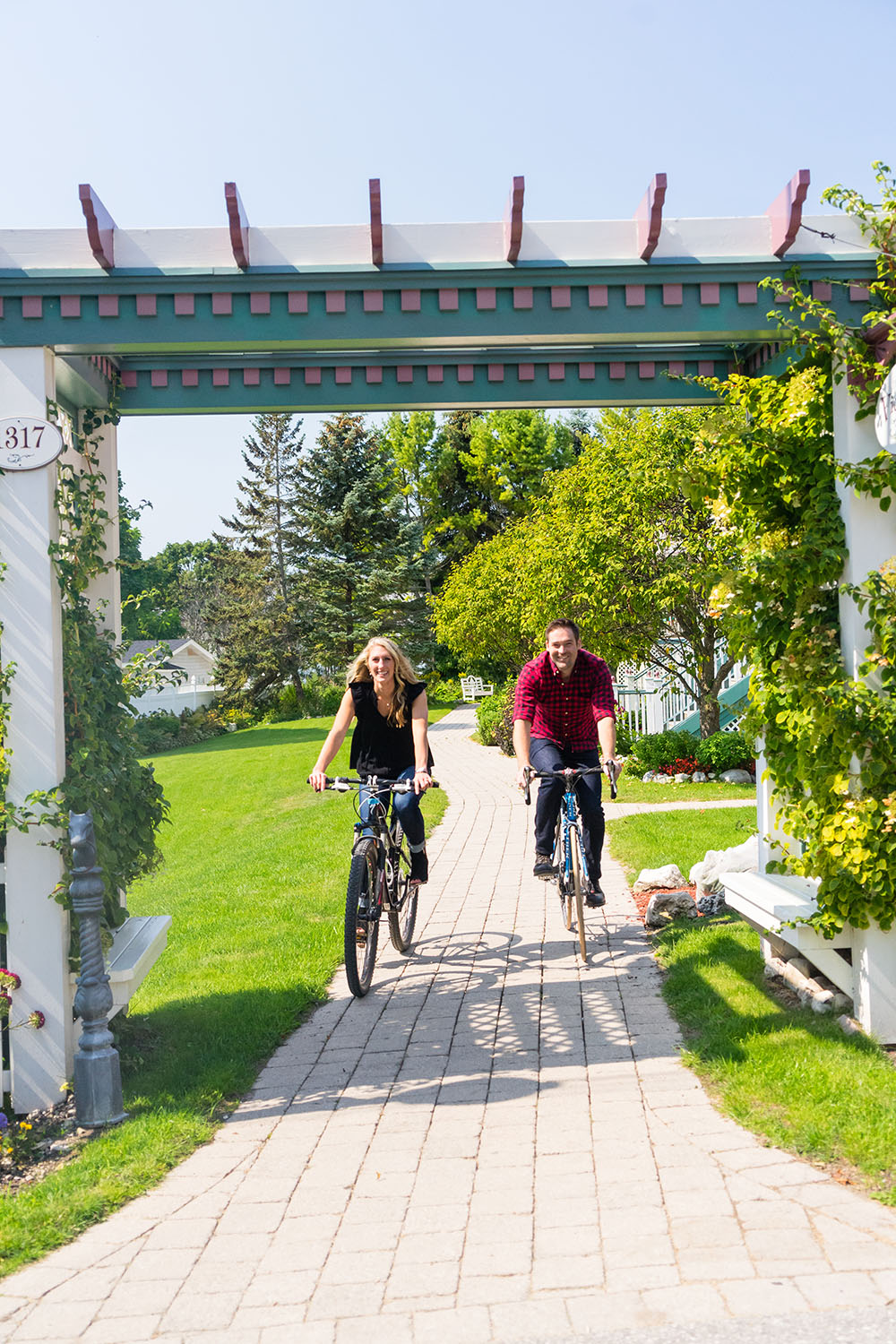 With all motorized vehicles being banned on Mackinac Island since 1901, the primary mode of transportation has become bicycling. With the circumference of the island measuring a total 8.2 miles, tourists and locals alike choose to meander around the island by bike. After all, it is the perfect way to take in the picturesque views, enjoy the beautiful Mackinac Island weather, and spend some quality time with friends and family. There's only one thing left to decide: should you rent a bike on Mackinac Island or bring your own?
If you choose to bring your own bike to ride while on the island, that's great! Every year, thousands of avid cyclists visit Mackinac and bring their bikes along with them. However, when you plan your trip to Mackinac Island, take note that ferries charge a bicycle transportation fee in addition to your roundtrip ticket price. It is also recommended that visitors that bring their own bicycles also invest in a personal lock to use in guest parking spaces and downtown.
Renting Bikes on Mackinac
No bike? No problem! At Island House Bike Rental, we understand that you want to embark on your Mackinac Island adventures as soon as possible, so we've made the bike rental process quick, easy, and convenient. Simply select the bike you would like to rent, specify the amount of time you will be renting for (by the hour, for the day, or overnight), and soon you'll be on your way! Bike locks and baskets are included with all rentals.
Alongside traditional bicycles, Island House Bike Rental also offers rentals for children, tandem bicycles for couples or friends, and burley trailers for the littles. No one should have to miss out on the magic of Mackinac Island!
In addition to the variety of options available to the public, the convenience of the bike rental process is why many Mackinac visitors choose to rent during their stay. Renting a bike saves space on your journey up to Northern Michigan and saves time when boarding a ferry to the island.
Bicycle safety is of the utmost importance when riding on Mackinac Island. Hidden behind the iconic scenic loop are winding trails and hilly roads, which bikers must pay attention to while riding. Control your speed, walk down steep hills, and always give horses and pedestrians the right of way. People seen riding recklessly or dangerously will be given citations by local police. A general rule of thumb when riding on Mackinac Island: be safe and have fun!