The Perfect Girl's Getaway: A Mackinac Island Adventure!
Share
Array
(
    [networks] => Array
        (
            [0] => facebook
            [1] => pinterest
            [2] => linkedin
        )

    [has] => Array
        (
            [facebook] => 1
            [twitter] => 
            [instagram] => 
            [pinterest] => 1
            [houzz] => 
            [linkedin] => 1
        )

)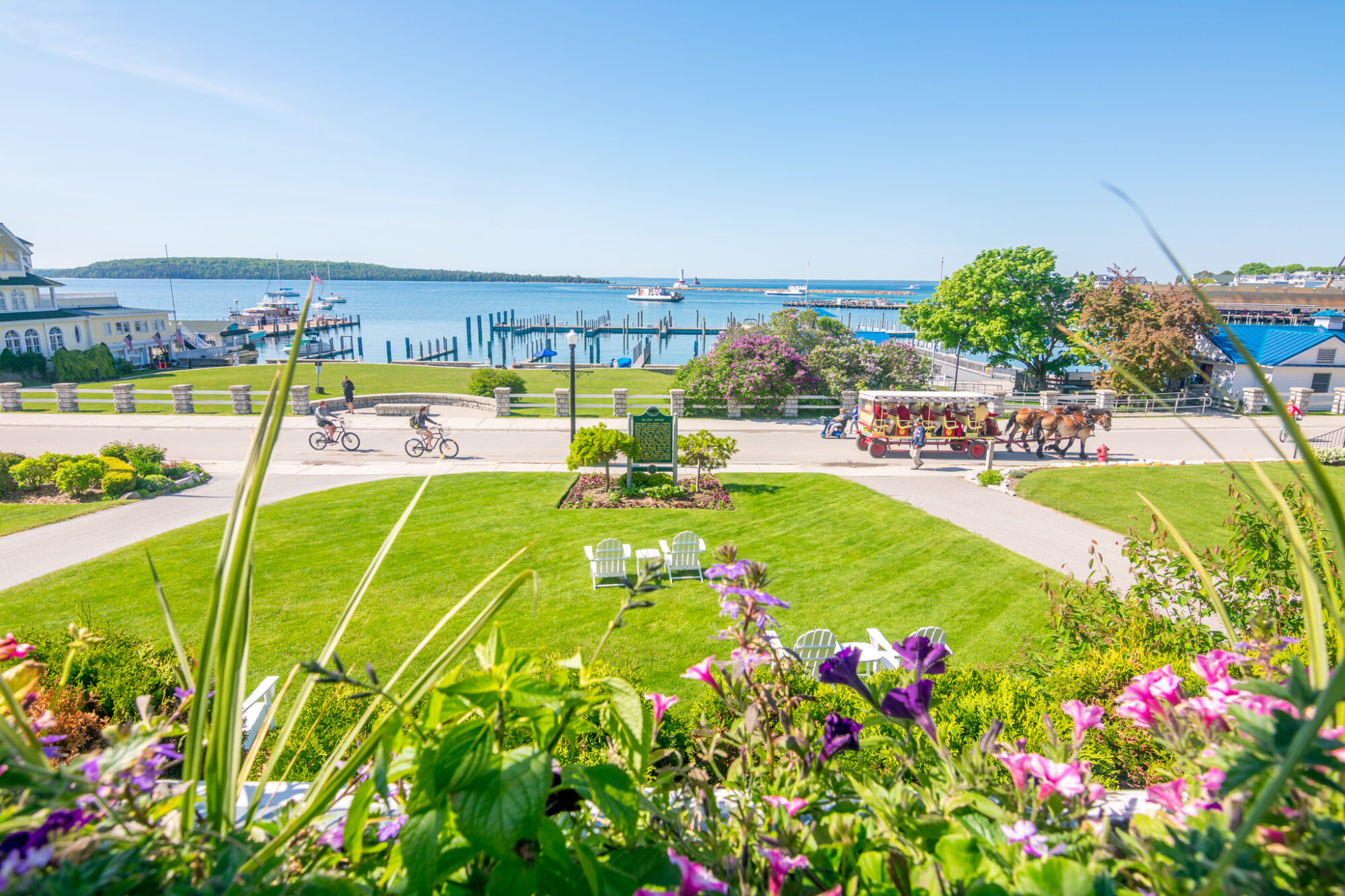 Get your girls together to plan your next trip! Treat yourselves to a weekend stay or spontaneous weekday trip to Mackinac Island this coming spring, summer, or fall. With a wide variety of activities, dining options, and shopping opportunities to explore, Mackinac Island offers a one-of-a-kind vacation experience, sure to create memories and stories that will be referenced for years to come.
When it comes to traveling, choosing where to stay is just as big of a decision as choosing your getaway destination. Luckily, the Island House Hotel on Mackinac Island offers the perfect location to immerse yourself in the historic ambiance while making your comfort a main priority.
The Island House Hotel on Mackinac Island is known not only for its charm and elegance but also for its status as a celebrated Michigan landmark. Originally constructed as a beachfront resort in 1852, the hotel would be passed along generations of Mackinac Island residents, abandoned for decades, and in 1969 rescued and renovated, becoming the iconic structure it is today. Island House Hotel offers modern conveniences, dining locations, and quality amenities while continuing to maintain its historic reputation.
Just a short walk away from the lively downtown scene, the Island House Hotel offers a calm, scenic location while also keeping you close to the action. Relax with the girls on the patio and watch as the ferries come and go. In the evening, grab a bottle of wine and head to the chimeneas to catch up and watch the starlight twinkle over the water. Feeling up for an adventure? Head downtown and experience one of the world's most unique shopping locations or take a bike ride and explore the beauty of Mackinac Island.
Mackinac Island offers a unique range of activities for people with all types of interests. From history buffs to adventurers, to wine tasters, we've got you covered.
Nothing says Mackinac Island quite like taking a bicycle ride. Automobile free since 1901, the best way to see the beauty of Mackinac is to ride through it. Rent a few bikes for your crew from Island House Bike Rental and explore the island at your own pace. For a shorter ride, bike through downtown and the surrounding neighborhood, or for a lengthier tour, pedal the 8-mile circle around the island. Either way, you and the girls will be falling in love with Mackinac in no time!
If you want to immerse yourself in the culture and history of Mackinac Island, make the short hike up to Fort Mackinac. Founded during the American Revolution, this impressive British fortress served as a barrier to keep American soldiers out. However, in 1796, the fort was taken over by American forces, another milestone in winning the American Revolution. Today, the fort serves as a symbol of American resilience and freedom and is available for visitation.
In the mood for a girl's night out? Explore Mackinac Island's animated nightlife after the last ferry departs. Stop in for a cocktail at one of the bars downtown, sing your favorite song with your friends on karaoke night, or dance the night away to an upbeat tune. When it's time to turn in, take the opportunity to look up at the stars and bask in the clarity of the Northern Michigan Sky. There truly is nothing like it.
If you're staying at the Island House Hotel or want to trade the hustle and bustle of downtown for a more relaxed dining experience, try the 1852 Grill Room or Ice House BBQ. Housed right inside the iconic Island House Hotel, these restaurants offer exquisite dining experiences and mouth-watering menu items. Enjoy locally sourced fish or fresh vegetable dishes at the 1852 Grill Room, complete with a classically sophisticated ambiance, perfect for a night out with the girls. For a casual lunch or dinner option, stop by Ice House BBQ to get a taste of the most delicious homestyle barbeque on the island. Enjoy your meal on the back patio, or order carry-out and dig in from the comfort of your lodging residence!
No matter what time of year you and the girls decide to get away, there will be plenty of tasty dining options to choose from. Many Mackinac Island restaurants, including the Pancake House, Mary's Bistro Draught House, Seabiscuit Café, 1852 Grill Room, and Ice House BBQ take advantage of using the freshest seasonal ingredients in their dishes.
What are you Waiting For?
This year, start a new tradition with your favorite gal pals with a trip to Mackinac Island. After experiencing the historic charm, scenic beauty, and experiences unique to the island, you'll be planning your next trip in no time!