The Best Time to Visit Mackinac Island
Share
Array
(
    [networks] => Array
        (
            [0] => facebook
            [1] => pinterest
            [2] => linkedin
        )

    [has] => Array
        (
            [facebook] => 1
            [twitter] => 
            [instagram] => 
            [pinterest] => 1
            [houzz] => 
            [linkedin] => 1
        )

)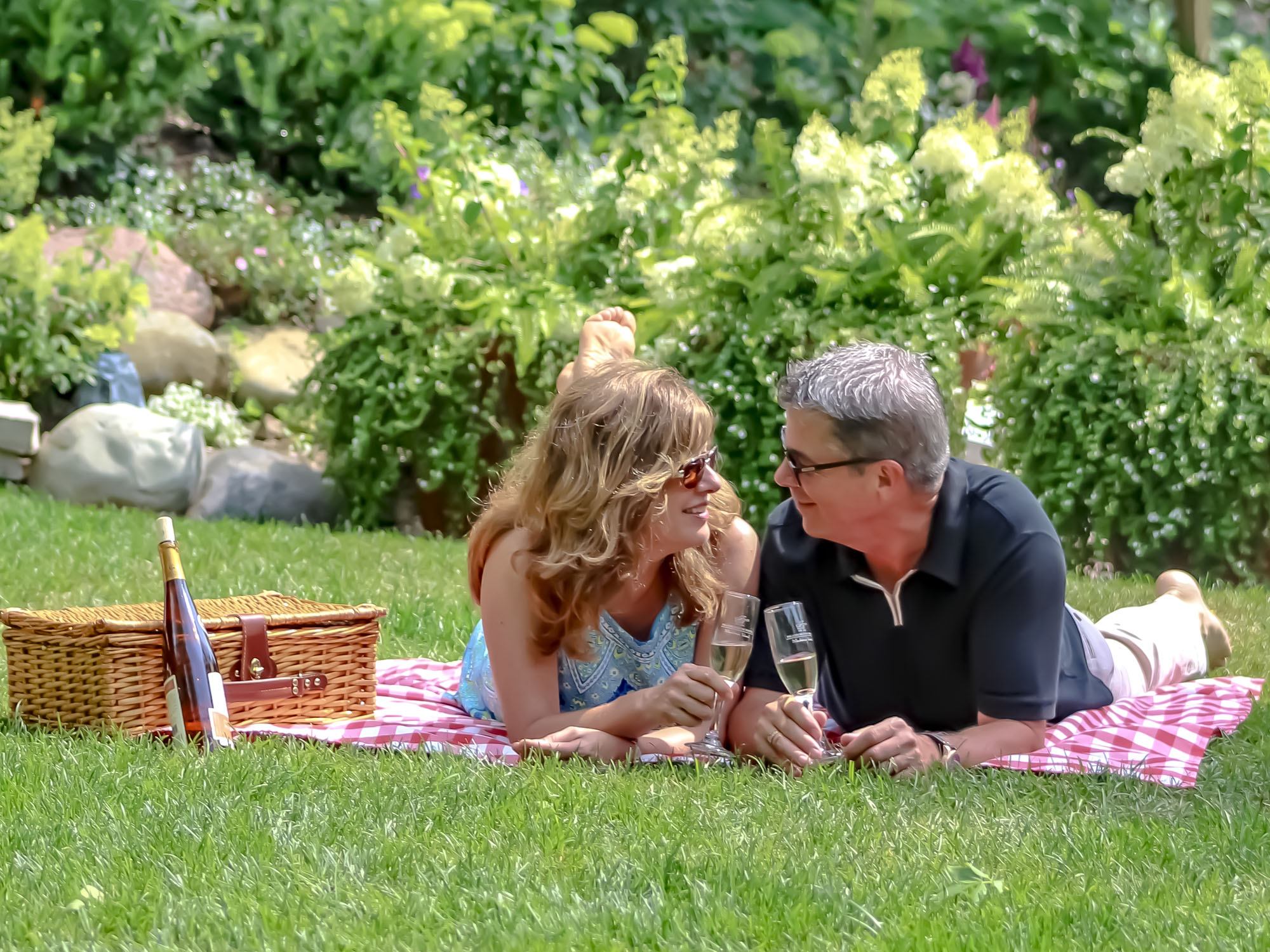 Adventure for Every Season
When it comes to vacationing on Mackinac Island, there is no wrong time to book a fun, memorable stay. Experience a vibrant Mackinac Island in bloom in the spring, soak up some rays while walking downtown or during a bike ride in summer, or enjoy the scenic views in fall when the trees turn shades of auburn, gold, and crimson. With a variety of activities, dining options, and yearly events to indulge in from May through October, it's up to you to choose your favorite time to visit!
When the weather gets warmer and beautiful May flowers arrive, businesses begin to open their doors to a new crowd of visitors in early May. As the earth comes to life again, take advantage of the outdoor oasis that is Mackinac Island. The temperate weather allows you to take a hike up to Fort Mackinac or rent a bike and ride around the island without getting too hot. For a delicious springtime meal, be the first to dine outside on the patio of the Ice House and enjoy some first-rate cuisine. You can even book a stay during Mother's Day or Memorial Day and spoil the ones you love with an unforgettable island experience!
If you're arriving in June, head downtown to experience the Lilac Festival, one of Mackinac Island's most highly anticipated events. Since 1949, the Mackinac Island Lilac Festival has attracted lilac lovers near and far to treat themselves to themed events, menu items, and taking in the beautiful flowers located all over the island. For ten days, these gorgeous blossoms inspire a selection of events that interest all kinds of island visitors. Test your endurance and sign up for the Lilac Festival 10k Run and Walk, looping around the island at your own pace. Not quite your speed? Participate in a free walking tour and observe the multi-colored lilacs close to downtown or attend a lilac planting seminar to learn how to care for these seasonal beauties.
In addition to the Lilac Festival's variety of events, it also brings about unique cuisine and beverage options, as well as exclusive springtime package deals. Stop by Seabiscuit Café from 4:00-5:00 pm for Purple Happy Hour and sip on a lilac-infused beverage, all while enjoying the historic and lively ambiance. For an all-inclusive Lilac Festival experience, ask for the Lilac Package at the Island House Hotel, complete with a lilac sapling to take home for yourself.
The next Lilac Festival is scheduled to take place June 9-18th, 2023.
Often recognized as the "prime time" to take a trip to Mackinac Island, the summer season offers wonderfully warm weather and a wide range of activities to take part in. Families, couples, and solo travelers are sure to be entertained walking around the Butterfly House and Insect Museum, posing for a caricature artist downtown, or dancing the night away at Mackinac Island's Music in the Park. When you finish your day with a breathtaking waterfront sunset, you'll understand why the Mackinac Island experience is unlike any other in the world.
Fresh Fudge for Everyone!
No trip to Mackinac Island could ever be complete without some freshly made fudge! Stop by Ryba's Mackinac Island Fudge Shops and sink your teeth into one of their 21 different flavors of decadently sweet, creamy fudge. Made from a perfected recipe that has been passed down for four generations, Ryba's handcrafted fudge will satisfy any sweet tooth. Craving some more confectionaries? Try some of Ryba's homemade caramel corn, saltwater taffy, or English Toffee and take it home as an additional souvenir.
While basking in the beautiful waterfront views always makes for a relaxing vacation activity, we understand that some visitors would rather be on the water than admire it. Don't worry, we've got you covered. Embark on a new journey with a kayak tour and see the sights of Mackinac Island in an entirely new way. Touch the cool, crystal-clear water and feel the breeze on your face as you pass some of the wonders of Mackinac Island, including Arch Rock, Fort Mackinac, and St. Anne's Church.
If you're looking to get away for a night, reserve a spot on an evening Sip n' Sail cruise. Enjoy a vibrant, multi-hued Mackinac sunset while listening to live music and sipping on a refreshing beverage from the cash bar. Take in the view as you sail peacefully under the Mackinac Bridge and watch the sun disappear over the horizon. After experiencing the cruise once, you'll be back every night for more!
Extraordinary Autumn Adventures
Autumn is undoubtedly one of the most beautiful times to visit northern Michigan. The unmatched vibrancy of the different colored leaves combined with the newly cool, crisp air would make anyone want to prepare for an outdoor outing. During the fall, the Mackinac Island community offers seasonal menu options, activities, and extra sales to mark the end of tourism season.
There's no better way to see the beautiful fall colors up close than taking a riding tour around the island. Feeling up for a bike ride? Rent a cycle from Island House Bike Rentals and wheel around the picturesque trails for a truly immersive experience. If you'd rather sit back and relax, embark on a horse-drawn carriage tour, and enjoy the most authentic way to observe all the highlights of Mackinac Island.
After a day of exploring, reward yourself with a treat (or two)! Make a stop at Ryba's Mackinac Island Fudge Shops and get yourself a delicious slice of Pumpkin Fudge. With a flavorful base of pumpkin and notes of cinnamon, ginger, and vanilla, this sweet treat perfectly encapsulates the essence of autumn. Later in the evening, head over to the Island House Chimineas to make s'mores and gaze up at the starry night sky.
As temperatures drop, prices do too! Take advantage of end-of-season sales when shopping downtown or booking a place to stay. The Fall Getaway Package at the Island House Hotel provides an assortment of accommodations including a full breakfast at the 1852 Grill Room, ferry tickets, luggage transfer, a slice of Ryba's pumpkin fudge, and a souvenir fleece lap blanket. all at an unbeatable price. Book your trip today to enjoy the autumn experience of a lifetime on Mackinac Island.
Now that you're seasoned in all Mackinac Island has to offer during the year, all you have to do is schedule your trip during your favorite time!