Dining at the 1852 Grill Room on Mackinac
Share
Array
(
    [networks] => Array
        (
            [0] => facebook
            [1] => pinterest
            [2] => linkedin
        )

    [has] => Array
        (
            [facebook] => 1
            [twitter] => 
            [instagram] => 
            [pinterest] => 1
            [houzz] => 
            [linkedin] => 1
        )

)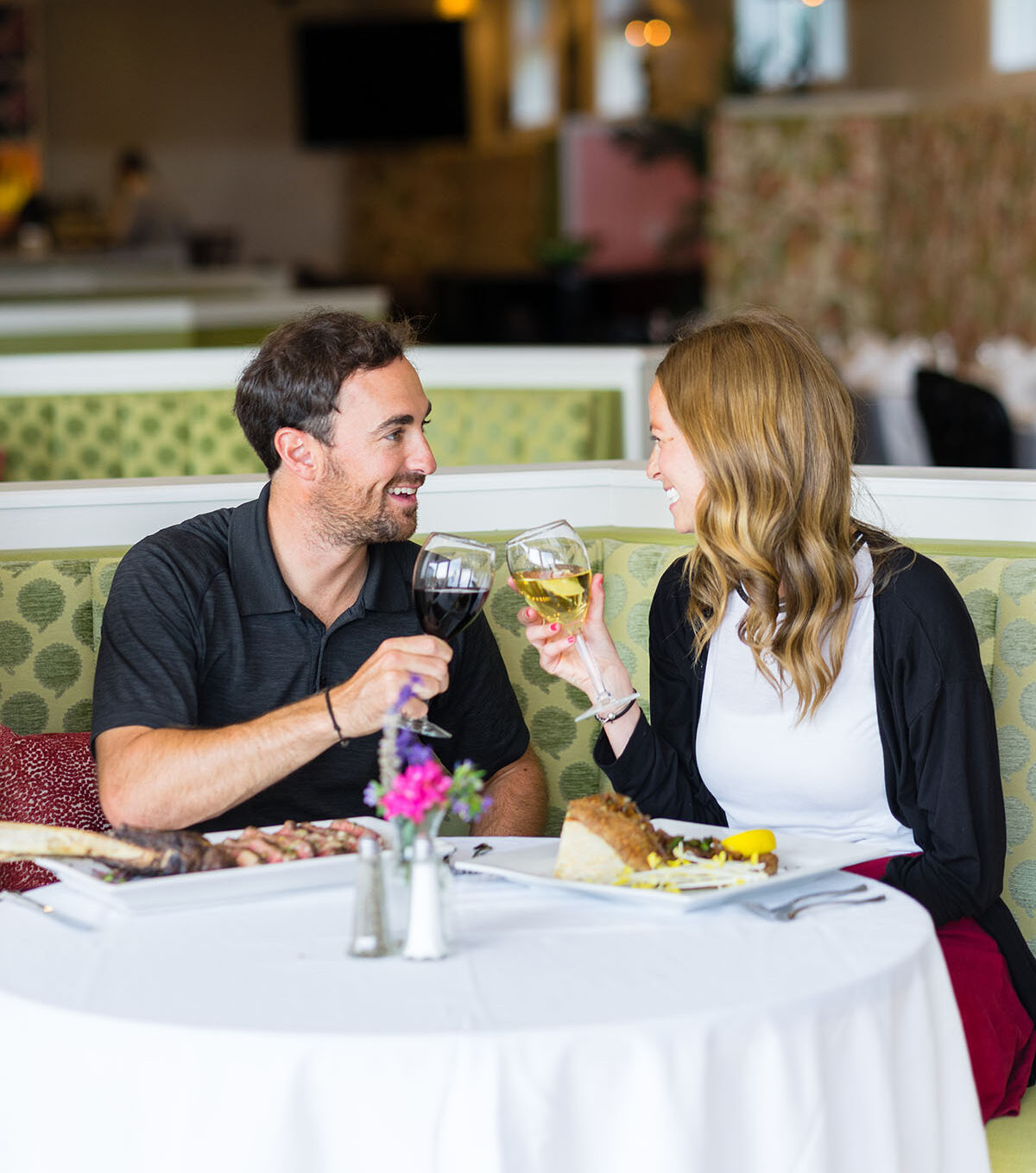 Located inside the Island House Hotel, the 1852 Grill Room is a part of the establishment's extensive history on Mackinac Island. Originally built as a beachfront resort for Charles O'Malley in 1852, the hotel would be inherited by different proprietors over a century, each working on expanding and improving the guest experience. This was the case until owner Rose Van Allen Webster passed away in 1938, leaving the building vacant, as the tax rate became too high for anyone to purchase it. Although the Island House was used as a center for operations for an international peace organization in the 1940s, the subsequent owners of the establishment would not appear for decades. Finally, in 1969, Harry Ryba, his son James Ryba, and Victor Callewaert purchased the hotel and began renovating it, carefully preserving as much of its history as possible. Renovations were completed in 1972, and the Island House Hotel reopened to the public.
Construction and alteration of the 1852 Grill Room would be a part of the next series of renovations in the 1980s and again in 1995. The most recent transformation occurred in 2013, adding elegant décor and floor-to-ceiling windows, exposing a gorgeous view of the harbor. Today, the Island House Hotel and the 1852 Grill Room remain a symbol of resilience and sophistication on Mackinac Island.
Just a short walk from downtown, the 1852 Grill Room offers fine dining and a casually sophisticated atmosphere. As you enter, music from a live pianist sets the scene for a relaxing, peaceful experience. Take a seat on the terrace patio and enjoy breathtaking waterfront views, or step inside and enjoy the timeless elegance of one of Mackinac Island's most historic establishments. Treat yourself to a refined dining experience, sure to be a part of your Mackinac memories for years to come.
The 1852 Grill Room offers delicious breakfast and dinner entrees prepared with the freshest ingredients by our experienced culinary team. There are also seasonal menu items that rotate every Spring, Summer, and Fall, so there's a new plate to try each time of year you visit!
For breakfast, classic meals such as savory omelets, crisp waffles, and fluffy pancakes are available for your enjoyment. As a side, select a fresh fruit bowl or indulge in a blueberry muffin made in-house. Need a morning pick-me-up? Order a specialty drink, like a mimosa or a Bloody Mary, to sip alongside your breakfast platter.
Once you've finished breakfast, you won't be able to wait to have dinner! The 1852 Grill Room specializes in preparing the freshest seafood, meat, and poultry-based cuisine. Spoil your tastebuds with locally sourced Maple Planked Whitefish or Center Cut Filet Mignon. Looking for a lighter plate? Order an Artisan Breadboard or Maryland Crab Cakes as a starter and indulge in a freshly made soup or salad as a main course.
Pair a specialty cocktail, beer, or wine with your meal to make it truly unforgettable. Sip on a locally made, Michigan-featured beverage, or get adventurous and sample wine from New Zealand or Italy. Our carefully cultivated selection will satisfy every type of cocktail connoisseur.
Q&A with Chef Phil Kromer
Executive Chef Phil Kromer has been crafting mouth-watering meals at the 1852 Grill Room for nearly a decade. His dedication to delicious cuisine and excellent guest service is part of what makes dining at the 1852 Grill Room a truly unforgettable experience. A recent Q&A session with Kromer reveals more about his history, career, and life on Mackinac Island.
Q. Where are you from, and what brought you to Mackinac Island?
A. I was born in Ohio and moved to Michigan when I was in middle school. We spent summers at the family cottage on Mullet Lake. Every year we would go to Mackinac for a day, ride around and have lunch at Ft. Holmes. Graduated from the Culinary Institute of America and, after working for Stouffer Restaurants and Chuck Muer, took a job as Chef at Hotel Iroquois on Mackinac. After five seasons, I left and married my wife, Megan. Returned to Mackinac Island as Executive Chef at Mission Point Resort for three seasons. Worked for Marriott and Renaissance Hotels in Cincinnati and Indianapolis. I accepted a position with the Callewaert family in 2013 and am now a year-round resident of Mackinac Island.
Q. The 1852 Grill Room offers seasonal menu options for different times of the year. Do you prefer cooking during one season over another, and why?
A. We have three seasons on Mackinac: spring, summer, and fall. We formulate menus on seasonal ingredients…ramps and morels in spring, Michigan fruits and veggies in summer, and root veggies and hearty dishes in the fall.
Q. What is your favorite meal to prepare at the 1852 Grill Room? Does it differ from your favorite one to eat?
A. We buy the best available ingredients, so I love all our dishes….my two favorites are Red Flannel Hash for breakfast and, in the fall, Wiener Schnitzel with braised red cabbage and spaetzle.
Q. What is the most valuable thing you've learned working as a chef?
A. My management philosophy has always been to find out what people do best, let them do it, then fill in from there!
Q. What is the best part about living/working on Mackinac Island?
A. I love the change in seasons and how the island changes based on those seasons. I also like that there is a beginning and an end to each season, so you get a chance to reset every year.
906 Rewards Club is Mackinac Island's most encompassing loyalty program. Earn & redeem rewards for lodging, dining, bike rentals, and even fudge! It's free to join. Register now at 906rewards.com to begin receiving exclusive member news & specials.